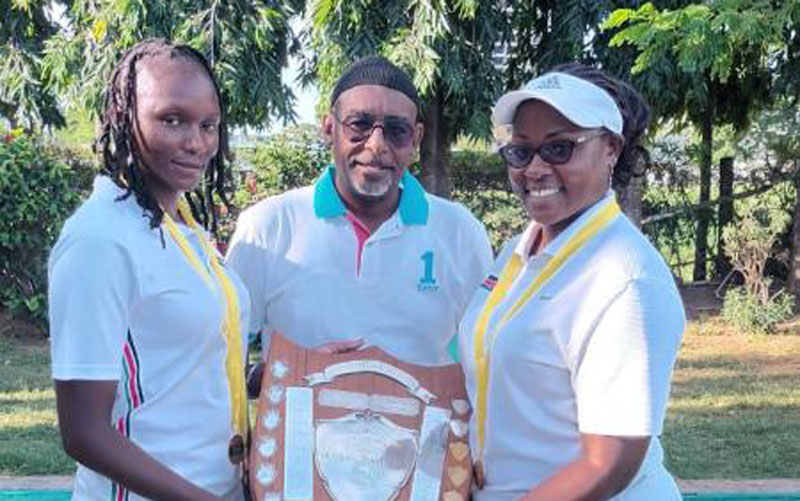 Ruiru Sports Club bowling team bowled extremely well to win the Coast Open national bowling tournament that concluded on Monday at the Mombasa Sports Club.
Andrew Jones led a strong team of Pion Munyinyi, Celestine Masila and Frida Mwangi to win in the Fours category.
The winners defeated the team of Cephas Kimwaki and Jedida Mwangi from Limuru Sports Club who teamed up with Mombasa Sports Club's couple of Vijay and Shoba Bij in the final.
In the Pairs category, Celestine Masila partnered with Frida Mwangi to apply their bowling skills to emerge victorious. 
Mombasa Sports Club, who were the host of the four day tournament, were consoled with a silver medal courtesy of the Vijay and Shoba Bij in the category of the Pairs.
Mombasa Sports Club's bowling section captain Ali Jeneby said the Fours category attracted 11 teams while the Pairs division had 20 teams.
"We had a well attended tournament that brought together some of the best bowlers in the country," said Jeneby, a former Harambee Stars trialist.
He said bowling players have not been active in the past two years due to the outbreak of Covid-19 pandemic.
"We did not have Coast Open in 2020 and last year after the government suspended all sporting activities due to Covid-19," said Jeneby.
He said the next stop will be at Ruiru Sports Club during the national singles tournament on Labour Day.