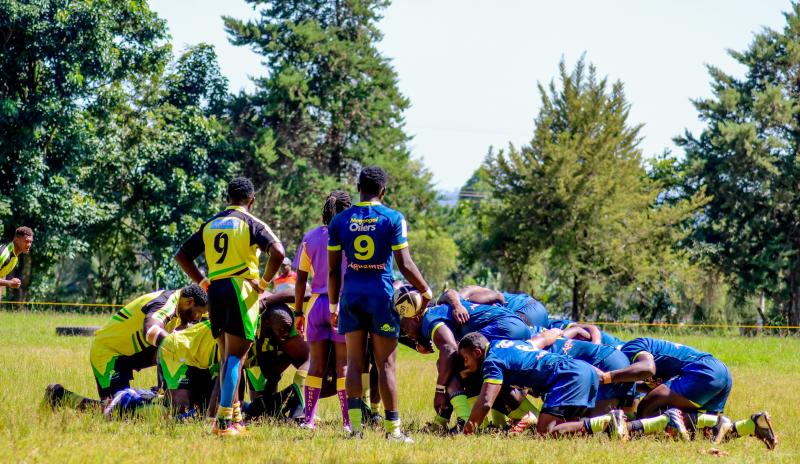 All rugby players featuring in the top tier league Kenya Cup will need to be fully vaccinated against Covid-19 or risk being barred from playing, Kenya Rugby Union said on Wednesday.
KRU has issued a vaccination policy before the start of the new 2021-2022 Kenya Cup season which kicks off on Saturday this weekend.
The KRU's COVID-19 mandate comes days after the Government directive that Kenyans must show proof of COVID-19 vaccination by December 21 to access public services.
Rugby clubs will now be forced to ultimately determine action on staff who do not receive the jab.
The Ministry of Sports conducted an extensive vaccination rollout for sportsmen and women earlier this year as part of safe measures that would allow for the return of sporting activities.
The rollout also targeted coaches, trainers and other staff members but the Government did not specify it would lock out those who opted against taking the shots.
Last season's runners up Kabras Sugar are the only club so far we can confirm have fully vaccinated their players and ready for kick off despite missing several key players out with the national team Kenya Simbas in the ongoing South African tour.
The new Kenya Cup campaign gets underway with all the 12 sides set to participate.
There are six matches on the cards across the nation in a season which will once again be played on a one off, round robin basis with the top four teams qualifying for the semifinal playoffs with the final slated for March 5, 2022.
Additionally, there will be three fixtures this weekend for the Women's Kenya Cup starting with the early kick off between Mwamba and Topfry Nakuru at the RFUEA.
Ruckit and Yamananshi Impala will duel at the Impala Club with Homeboyz and Northern Suburbs facing off in Ruaraka.
Kenya Cup Match Day One (Saturday)
Strathmore Leos v Topfry Nakuru, 1.00pm, RFUEA, Nairobi
Kenya Harlequin v Resolution Impala Saracens, 3.00pm, RFUEA, Nairobi
Kabras Sugar v Blak Blad, 3.00pm, Moi Showground, Kakamega
Masinde Muliro v Nondescripts, 3.00pm, MMUST, Kakamega
Menengai Oilers v Mwamba, 3.00pm,Moi Showground, Nakuru
KCB v Homeboyz, 3.00pm, KCB Sports Club, Ruaraka