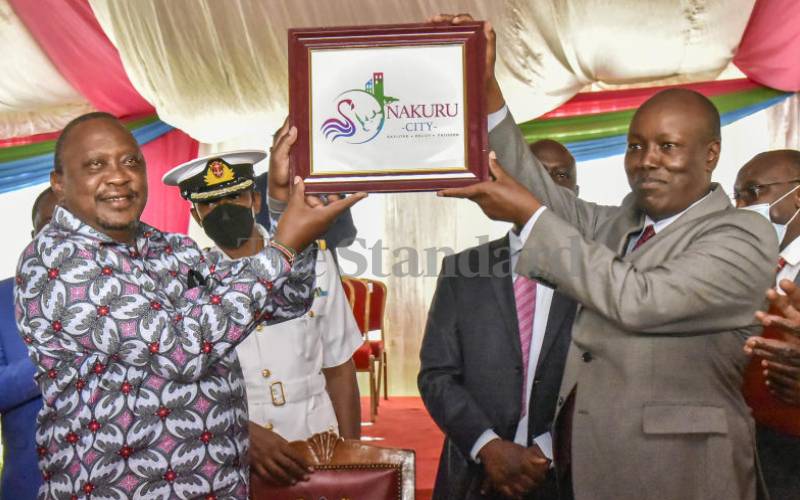 President Uhuru Kenyatta has urged Kenyans not to discriminate against elective seat candidates based on age.
In his message, which some speculate could be an indirect campaign for Orange Democratic Movement (ODM) leader Raila Odinga, the president said age occasions wisdom, an important attribute in leadership.
Odinga, 76, is highly expected to face off against Deputy President William Ruto, 54, in the 2022 presidential election.
DP Ruto and his allies are on record, calling for Odinga's retirement, saying age had caught up with the former prime minister.
President Kenyatta, however, has a contrary opinion.
"I would compare leadership to a marathon, not sprint or a football match [that ends in 90 minutes]. Leadership needs wisdom, which is mostly brought about by age," the president said in Nakuru when he awarded a city status charter to the county on Wednesday.
Odinga is yet to formally declare his candidature in the 2022 presidential contest, though all odds suggest he would be on the ballot paper as efforts to consolidate the opposition continue.
The ODM boss said he will make a "major announcement" on December 9, including a declaration of his position in the 2022 political matrix.
In his December 1 address, Uhuru cautioned politicians seeking elective positions in the 2022 General Election against instigating violence.
"There are politicians who bank on the popularity that stem from incitement; they believe that the more hatred you spew against certain candidates, the higher are your chances of winning an elective seat," he said.
"You have to remember that after riding on hate-founded popularity to win a political seat, you will inherit a polarised constituency. You won't be able to govern such a divided society," he said.
Using the handshake analogy, the Head of State illustrated how the society can develop in leaps and bounds when peace reigns.
"Lack of peace in the country after the divisive 2017 polls, cost Kenya at least Sh1 trillion in revenue," he said.
"Out of the need to mitigate the adverse effects of division, Raila and I came together [on March 9, 2018] to find a long-lasting solution. We have, consequently, managed to overcome the Covid-19 pandemic challenges due to peace and stability."
The president said he was keen on ensuring that peace becomes one of his key legacies, even as his 10-year reign enters the homestretch.
"I am not seeking re-election [in 2022]. I am focused on leaving behind a peaceful country; that would be my legacy," he said.
According to Uhuru, the high rate of unemployment would be contained if the business environment is peaceful and conducive for trade.
On who he wishes to hand over power to, the president reiterated his previous remarks, urging the youth to vote for leaders who have their interests at heart.
"Don't vote for someone who is full of promises, but lacks the interest to solve political challenges in his backyard."
President Kenyatta is on record reprimanding his deputy for "sabotaging" his unity quest.
In an interview with senior news editors on August 23, Uhuru said he "did not understand" why Ruto was against his decision to onboard Raila Odinga in the running of government.