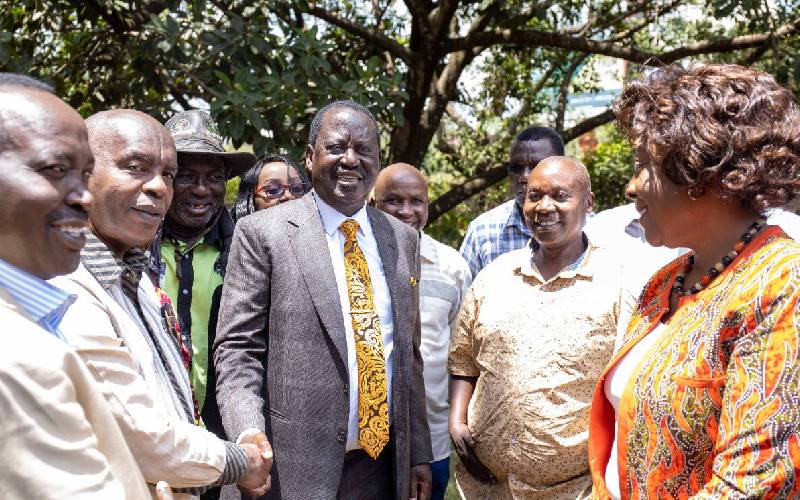 There was relief in Azimio-One Kenya Alliance when Opposition chief Raila Odinga brokered peace between the squabbling siblings from Lower Eastern.
It was thought that the monolithic political party would at least experience some peace.
However, barely a day after Raila ceded to the demands of a group of parties protesting the make-up of Azimio's leadership and expanded the membership of Azimio Coalition Council to eleven members, it is emerging that a war front with Kalonzo Musyoka's Wiper Party could be opening.
The party was conspicuously missing from a meeting called by Raila on Thursday to iron out the contentious issues.
Party members, and Kalonzo's allies yesterday dismissed the meeting, saying that it was a get together between Odinga's ODM and its affiliate parties.
Raila met leaders from Maendelo Chap Chap, Muungano, Kenya Reform Party, Chama Cha Uzalendo (CCU), Democratic Action Party- Kenya (DAP-K), PPT, Narc and Maendeleo Democratic Party.
These parties have banded under the Mwanzo Mpya Caucus and on Wednesday raised a number of grievances with Azimio, key among them the proposal of zoning the country.
Some of those present were governors Alfred Mutua, Kivutha Kibwana and Charity Ngilu and Martha Karua and Eseli Simiyu.
The meeting resolved to expand the coalition's council to eleven members and also abandon the plans to zone parts of the country for any political party, a statement from Raila Odinga 2022 presidential campaign team spokesperson Prof Makau Mutua said.
"The matter of the running mate will be decided in consultation with partner constituent parties at the appropriate time," Prof Mutua said.
While the jury is still out on how long the peace brokered by Raila will last, a close ally of Kalonzo, Makueni MP Daniel Maanzo, hinted that Wiper was aggrieved by the expansion of the council.
"We joined Azimio on the basis that it will be a three-legged African stool. There cannot be an eleven legged stool," Maanzo said yesterday.
Wiper is in a fight for its survival in Lower Eastern. It is facing opposition from parties such as Ngilu's Narc, Mutua's Maendelo Chap Chap and Kibwana's Muungano Party.
The first signs that things might not be rosy in the 26-party coalition emerged late Wednesday when Mutua led eight affiliate parties in threatening to withdraw their support unless certain conditions were met. 
The MCC party leader and some eight parties demanded to have a say in who gets to be Raila's running mate, as well as a seat at the table.
They had banded together to protest the tripartite leadership of Azimio by ODM, Jubilee and Wiper.
Mutua and other party leaders from eastern Kenya are concerned that a new deed has been deposited with the Registrar of Political Parties introducing One Kenya into the coalition's name and zoning of regions to pick candidates.
They are worried that zoning would lock out candidates of other parties in favour of Wiper. Zoning has been proposed by Azimio to prevent the self-cannibalisation of affiliate parties. 
The method would see parties withdraw their candidates and allow rival parties to run if they are perceived to be stronger.
Mutua and his team say they were not involved when the decision to zone some regions was made.
During a press briefing, the party leaders called for a renegotiation of the document that formed the Azimio la Umoja One Kenya and the withdrawal of the document that has been deposited with the Registrar of Political Parties.
The trigger for the protest was Kalonzo who said on Tuesday that the Azimio la Umoja One Kenya coalition party would incorporate zoning to increase the chances of victory and secure a majority in both Houses.
"I know for a fact we have nominated Raphael Tuju to sit as a chair and he will be assisted by the political parties' secretaries-general Shakila Abdala (Wiper), Edwin Sifuna (ODM) and Jeremiah Kioni (Jubilee)…and they will be sitting to look at those issues," said Kalonzo.
True to Kalonzo's statement, Azimio la Umoja announced Tuju as the man to spearhead the zoning.
Mutua now accuses the leadership of Azimio of engaging in underhand tactics and making decisions to benefit themselves.
"We saw Tuju's appointment to lead Azimio Secretariat in the news and we were told that he will be deputised by somebody from Wiper, ODM and Jubilee," he said.
But Raila was forced to walk back the decision to zone the country according to party strength.
While Mutua and team aired their grievances, the import of their statement was in what they did not explicitly state.
Before he finally agreed to join Azimio la Umoja, Kalonzo had made it clear that he would only do so if his party was guaranteed an equal right as Jubilee and ODM. Like a "three-legged African stool", he called it.
By opening the door to the other parties to have representation at the leadership of Azimio, Raila has effectively transformed what Kalonzo wanted to be a three-legged stool.
It is being viewed as an attempt to neutralise the Wiper leader by questioning his claim to be Raila's deputy.