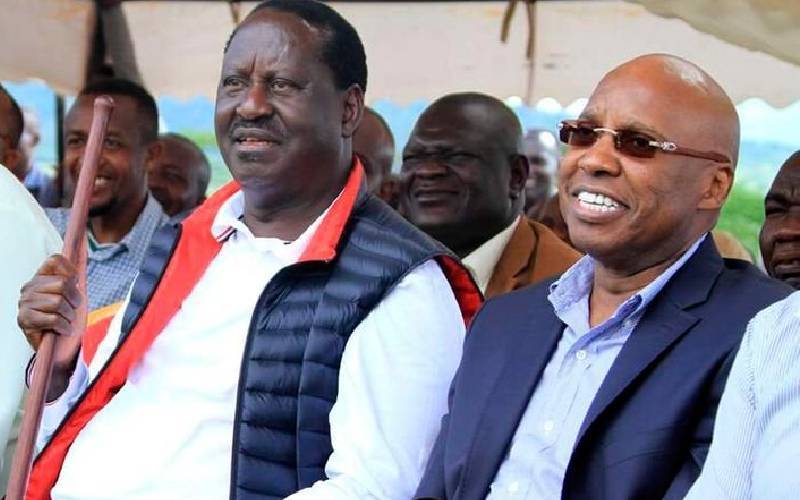 A few years ago nobody except a few knew who Jimi Wanjigi was; not even google had his photographs.
In his previous life, he chose to carry out his activities behind the scenes. Today, Jimi Wanjigi has become a household name, thanks to his controversies.
His revelation in 2017 that Uhuruto government was formed in his house thrust him into the limelight. Kenyans wondered how an ordinary businessman wielded powers to the extent of brokering a deal that would see Kenya transition from Kibaki to Uhuru's administration.
In the run-up to the 2017 general election, he fell out with Uhuruto and found a new home in former Prime Minister Raila Odinga's camp.
He thereafter registered as ODM party life member. His closeness with Raila saw police raid his Muthaiga home to arrest him over an alleged illegal acquisition of firearms. Raila Odinga came out in the open and defended him accusing the government of witchhunt.  
Like in the Uhuruto case, his relationship with Raila became rosy after the March 9, 2018 handshake between President Uhuru and Raila Odinga. Wanjigi accused Raila of betraying the course and the aspirations of millions of Kenyans.
Last year, Wanjigi declared his bid to run for president on an ODM party ticket challenging Raila for a political duel. He began his countrywide tours, rallying Kenyans to support his bid to succeed President Uhuru as the fifth president.
His intention to open a parallel ODM office in Murang'a County was met with brutal force by the party top ODM organs who maintained that such a function can only be carried out by party officials. A Meru court thereafter barred him from opening any ODM office or meeting its members.
ODM party member Catherine Irungu has also moved to the Political Parties Tribunal challenging Wanjigi's presidential candidature saying the party failed to conduct an objective ethics and integrity test on him.
Last week, ODM through its Secretary-General Edwin Sifuna released a notice calling for delegates meeting on 25th and 26th February 2021. This has irked Wanjigi who has vowed to move to court if the party will not cancel the delegates meeting and conduct its presidential nominations.
Whether Jimi Wanjigi will toe the line and leave Raila to run the show remains a matter of wait and see.