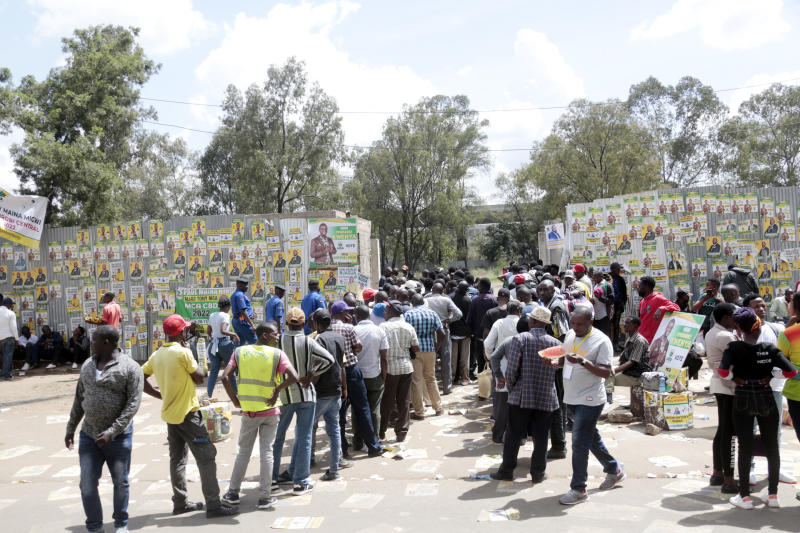 Mistrust, transport hitches and allegations of rigging marred UDA primaries in South Rift yesterday. 
However, it not all gloom as some polling stations had a smooth start to nominations for aspirants eyeing various elective seats in the August 9 General Election.
In Bomet, the recovery of marked ballot papers at Tenwek High School threatened to ruin the exercise before the UDA National Election Board intervened. Governor Hillary Barchok and lawyer Hillary Sigei who were accused of hatching a plan to rig by dispatching marked ballot papers denied involvement in the matter.
Dr Barchok blamed Bomet Woman Rep Joyce Korir, Nominated MP Wilson Sossion and Bomet Senator Christopher Langat claiming some of them had been captured on CCTV cameras marking the ballot papers.
"CCTV footage has exonerated some of us who had been accused of plotting to rig the votes and the leaders who caused tension should be held accountable for their actions," he said.
Mr Sigei, who is eyeing the UDA Senate ticket, said the leaders who stormed the tallying centre had sensed defeat. "We are saddened by the turn of events but leaders making the claims are the ones who attempted to disrupt the exercise," he said.
Former Petroleum and Mining CAS John Mosonik, who wants to be governor, denied claims by Barchok that he was engaging in voter bribery. "Barchok is sensing defeat and I want him to table evidence on alleged voter bribery," he said.
Mr Sossion, who led protests against the process, said there was no harm in postponing it for a day and threatened to reject the results over the alleged marked ballot papers.
"Unless these issues are sorted out, we will not accept the outcome. The party should put things in order," he said.
Returning Officer Ronald Mutai said four polling stations station were affected by the destruction of polling materials.
Mr Mutai said the process had been going on smoothly before goons ferried in cars stormed the venue and destroyed the ballot boxes and papers.
In Nakuru County, UDA conducted nominations in 10 out of 11 constituencies as aggrieved aspirants claimed termed the exercise shambolic.
Bahati MP Kimani Ngunjiri said the nominations were largely successful in his constituency and blamed some elected leaders for the shortcomings reported elsewhere.
"The few incidents reported are due to attempts by sitting leaders who want to plant their preferred candidates. They are known and I urge the voters to reject such leaders on August 9," said Mr Ngunjiri.
Notable incidents included a confrontation between Biashara Ward aspirants and Returning Officer Joshua Murgor. The leaders expressed lack of trust in the officials.
"We demand the redeployment of polling clerks to other stations. The clerks are known allies of another aspirant," Biashara Ward MCA Stephen Njoroge told Mr Murgor.
When the Returning Officer declined to heed to their plea, the aspirants mobilised voters to walk out of various polling stations, including Menengai High School and Nakuru Railway Station and demanded postponement of the nominations.
In Rongai, the exercise went on smoothly in most polling centres despite claims of the party allowing people to vote multiple times in favour of certain candidates.
UDA supporters at Kiamunyi High School were shocked after ballot papers for MCA in Menengai West went missing. Apathy and poor planning marked the UDA nominations in Naivasha and Gilgil constituencies.
Naivasha MP Jane Kihara said voting did not take place in some polling stations but denied that the party had preferred candidates.
Ms Kihara, who is facing stiff competition from former MP John Kihagi, accused some outsiders of trying to influence the outcome of the elections. "We should give Naivasha residents a chance to elect their representatives in the UDA nominations and we shall not entertain influence from outsiders," she said. Gilgil MP Martha Wangari her claims that she had hand in picking the Returning Officers. "Some of the aspirants have started to panic and are issuing threats," she said.
In Baringo, voting in three sub-counties faced hiccups with aspirants accusing the party of poor preparations. Joseph Tarus, an aspirant for Baringo South constituency described the process as messy.
Protagonists in the Kericho governors' race pledged to accept the electorate's verdict.
Former CS Charles Keter cast his vote at 11.40am at Kapmaso polling station in Belgut constituency while his rival Dr Erick Mutai voted at Chesingoro polling station in Bureti constituency at 12 pm.
"I am prepared to accept the outcome. Kericho residents are more important," Dr Mutai said.