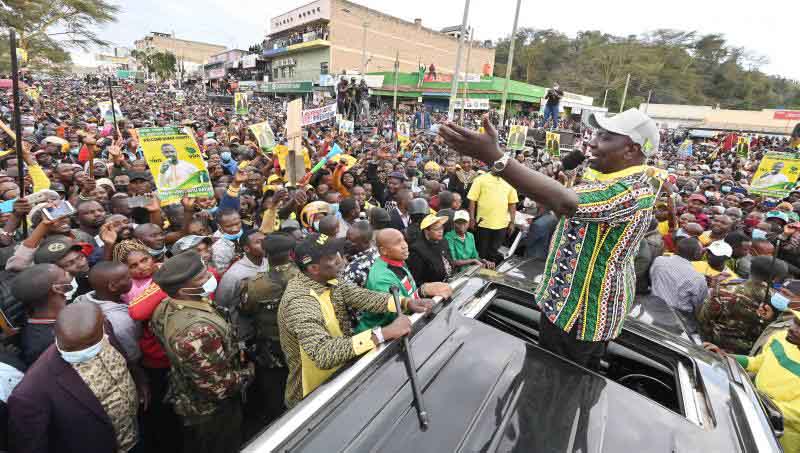 Deputy President William Ruto has said the 2019 Mau Forest evictions were done according to law and should not be used for political gain.
Ruto, who spoke at Olopito in Narok North Constituency during the housewarming party for Nairobi Nominated MCA Leah Nankanae, rubbished propaganda by his political rivals that he would return the evictees to the forest should he become President in 2022.
"I am pro-environmental conservation. The evictions were done when I was Deputy President of Kenya, and if I was against the eviction, then I could have used my authority to ensure it did not happen," he said. 
"I want to tell those who have been using the Mau issue to divide communities and to fight me in Narok to look for another political fodder. All those who were in the forest have already been evicted and the matter is now water under the bridge," Ruto added.
He reiterated that the fencing of the entire forest was ongoing and that no one would settle in the forest again. "Let us now face off with 2022 presidential aspirants on development track records," he said.
The DP, accompanied by Garissa Township MP Aden Duale, Rigathi Gachagua (Mathira), Kimani Ichung'wa (Kikuyu) and Bahati's Kimani Ngunjiri also made stopovers at Narok town, Suswa and Ntulele trading centres. 
Other local leaders who hosted the DP include MPs Korei Lemein (Narok South), Soipan Tuya (Woman Rep), Gabriel Tongoyo (Narok West) and Narok East's Lemanken Aramat.
Labour CAS Patrick Ntutu, who wants to be Narok governor, joined the DP for the event.
Mau Forest evictees have since sued the government seeking to be resettled in the forest. The government has also filed cross-petition seeking cancellation of title deeds in the hands of the people claiming ownership of land in the Maasai Mau Forest. The case is still pending in court.
The government has since laid claims ranches were extended leading to encroachment into forest land.
Sisian Group ranch had a registered 447.5-hectare parcel of land but increased it to 1215.6 hence an extra of 768.1 hectares.
Nkaroni Group ranch had a registered area of 1597.5 hectares but was increased to 5582.5 hence an extra of3985 hectares
Enoosokon Group ranch had a registered area of 155 hectares but was increased to 653 hence an extra of 498 hectares
Enakishomi Group ranch had a registered area of 1748.5 hectares but was increased to 9748.5 hence an extra of 8000 hectares
Reiyo Group ranch had a registered area of 26 hectares but was increased to 878.6 hence an extra of 852 hectares.