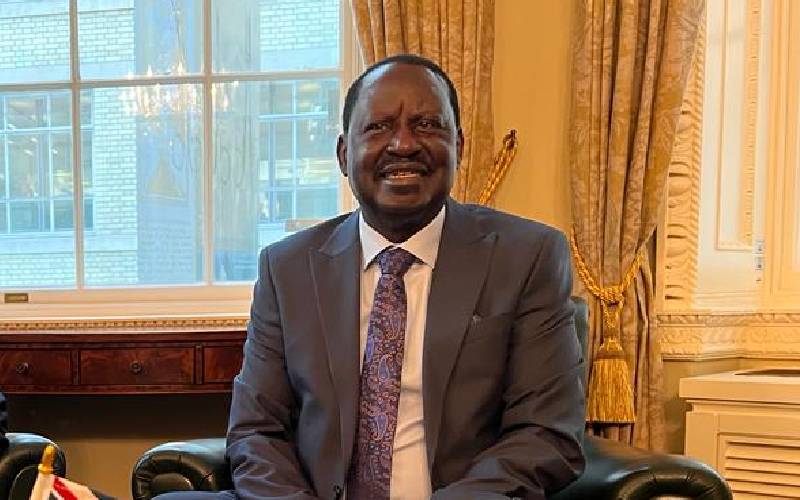 ODM leader Raila Odinga has told off Deputy President William Ruto over plans to set up a parallel tallying centre for the August 9, general election.
There have been media reports alluding to plans by the Ruto team to set up a tallying centre in order to guard his votes from being stolen. During his recent tour of the UK, the Deputy President alleged that credibility of Kenya's electoral system is under threat, as the ruling administration sought to install 'a puppet president.'
In a rejoinder, however, Raila, who was speaking to BBC's Sophie Ikenye, said the Independent Electoral and Boundaries Commission (IEBC) was an independent body that was not influenced by the government.
In addition, Raila accused Ruto of speaking from two sides of his mouth.
"Last election [2017], when we demanded to be allowed to set up a parallel tallying centre, he [Ruto] is on record saying that would be unconstitutional. Now he is saying he is going to set up a parallel tallying centre so he is basically living in contradictions," said Raila.
The former Prime Minister referred to himself as a victim of election malpractices in the past and implored the electoral body to ensure a free, fair and verifiable election.
"As you know I have been a victim [of election malpractice] in the past and each time I have said, I would want to see free and fair elections in the country," Raila said.
Speaking on where he would get funds for his Social Welfare State Plan, Raila said he would be ruthless in the manner in which he dealt with graft culprits, acknowledging that billions were lost through corruption.
"Through graft, a lot of funds are being lost in our country. The president himself estimated about Sh2 billion daily that works out, that is more than what I require," he added.
Raila is on a five-day-visit to the United Kingdom where he has lined up a series of high-profile engagements.
Earlier during the the day, he held talks with British Minister for the Armed Forces, James Heappey, at the Ministry of Defence headquarters in London. The duo had a robust conversation on matters pertaining to security with a view of enhancing ties between Kenya and Britain.
He was in the company of Kenya's ambassador to the United Kingdom Manoah Esipisu, Mombasa Governor Hassan Joho, Suna East MP Junet Mohammed among other leaders.
On Wednesday, Raila will hold a meeting with Lord Tarif Ahmad, the UK Minister for South Asia, North Africa, the United Nations and the Commonwealth.
He is also expected to deliver two addresses. One at Commonwealth Secretariat titled "The Road to Peaceful Elections in Kenya" and another at Chatham House address on "Kenya's 2022 elections: Priorities for unity and policy change. "?