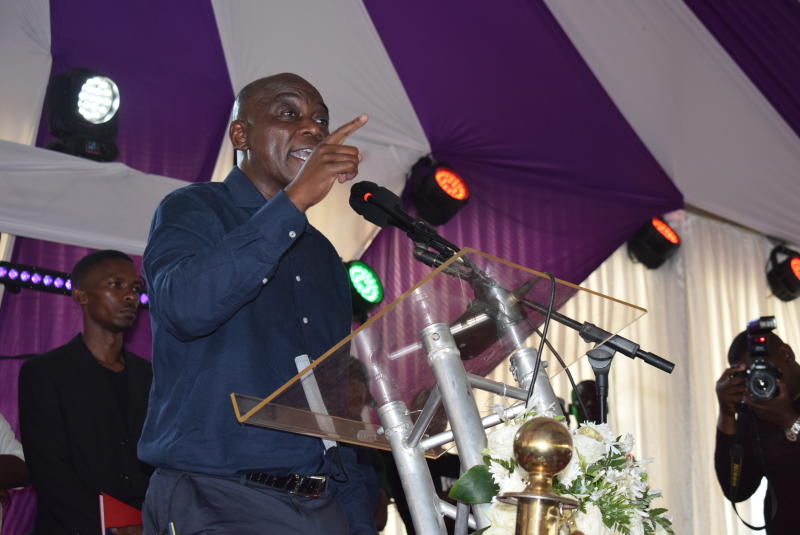 Orange Democratic Movement (ODM) is on the spot for allegedly allowing former Prime Minister Raila Odinga's aide Caroli Omondi to participate in the party's primaries despite his membership in another party past the deadline for party-hopping.
In a protest letter to ODM National Elections Board chairperson Catherine Mumma, three party members reckon that Caroli had been illegally and irregularly cleared to participate in the ODM primaries for Suba South parliamentary seat in breach of political parties law and the party's own regulations.
The trio, Ogolla Henry Omolla, Michael Otieno and Joash Osodo, who are residents of Suba South constituency, insist Caroli was not among eight aspirants who applied to participate in the ODM primaries by March 16.
Through lawyer Denis Onyango of Viola & Onyango Advocates, the trio has named the aspirants who applied and paid for the primaries as Stephen Sangira, Kennedy Omollo, Tom Orwa Kituka, Julius Opala, Maren Achieng, Lucy Achieng, Evance Marieba and John Angili.
"For the avoidance of doubt, Mr Caroli Omondi was not on that list as at the deadline of March 16, 2022," Mr Onyango said.
The voters have accused ODM of breaching its own deadline by more than 10 days (March 30) when it allowed Mr Omondi to move parties and participate in the party primaries.
Mr Omondi resigned from ODM in the wake of the 2017 party primaries and went on to support his relative against the ODM candidate, a move the voters claim, amounted to sabotage and disloyalty to the orange movement.
Mr Omondi had in February also vowed not to rejoin ODM despite pleas from the party's national chairman John Mbadi.
"While appreciating that joining the party is not a complex process and it is possible that Mr Omondi could have paid for membership again, this change of position happened long after the March 26, 2022 deadline set for any individual seeking the party's ticket to join the political party," Mr Onyango said.
He said opening up the application for Mr Omondi to participate in ODM polls after the Registrar of Political Parties and IEBC deadline was illegal, irregular, discriminatory and unconstitutional.
Onyango demanded that ODM elections board boss Catherine Mumma disqualify Mr Omondi from participating in ODM's Suba South primaries and make the disqualification public within 48 hours from April 4.
The voters also demanded certified copies of ODM membership register as of March 26 and Caroli's membership and payment details.
They have promised to move to court to contest the party's breach of its own constitution and regulations, as well as statues governing political parties and their memberships.
Mr Sangira, who is one of aspirants, cited a clause in the ODM nomination rules that requires aspirants to have been a member of the party for at least 6 months before the date of the primaries.
"The only exclusion is where the National Executive Committee, via a resolution excuses one from this requirement, which has not been done for Caroli – making hims a stranger in ODM," Mr Sangira said adding that Mr Omondi was a member of DAP-Kenya until a few days ago. 
Mr Kituka and Mr Opala also asked the party to conduct free and fair nominations in Suba South.
"Issues raised by the voters should trouble everyone interested in Suba South parliamentary seat . I want to know how and why Omondi is being allowed to run for the seat through the back door," Mr Marieba insisting that the aspirant left ODM in 2017 after branding the party a non- democratic outfit.
"He has been bandying around some opinion polls alleging that he is very popular on the ground, yet he has visited the constituency less than three times since he was defeated in the last polls, Mr Marieba said.
"We urge ODM, a party I have been loyal to for the last 15 years, to allow us go for nominations next week as earlier scheduled so that the voice of ODM members can be heard on the ballot," added Marieba, who has served as the county assembly speaker in Homabay and is the outgoing MCA for Gwassi North Ward.
Mr Omondi joined DAP-Kenya in readiness for the election but appears to have made an about turn to rejoin ODM way past the deadline for party hopping.
Mr Omondi dismissed the petition as baseless, arguing that the petitioners lacked the correct information about his party membership.
"It is unfortunate. The three petitioners are not members of ODM. How can you complain about an institution you are not a member of?" asked Caroli.
"I am a life member of ODM number 17. I don't want to argue with them. The party will respond to their grievances," he said.
The battle for Suba South parliamentary seat was thrown wide open after incumbent John Mbadi, who had expressed interest in Homa Bay governorship quit the race in favour of woman rep Gladys Wanga.
Mr Mbadi said he woud not defend his parliamentary sea but would concentrate in campaigning for ODM leader Raila Odinga's presidential bid.