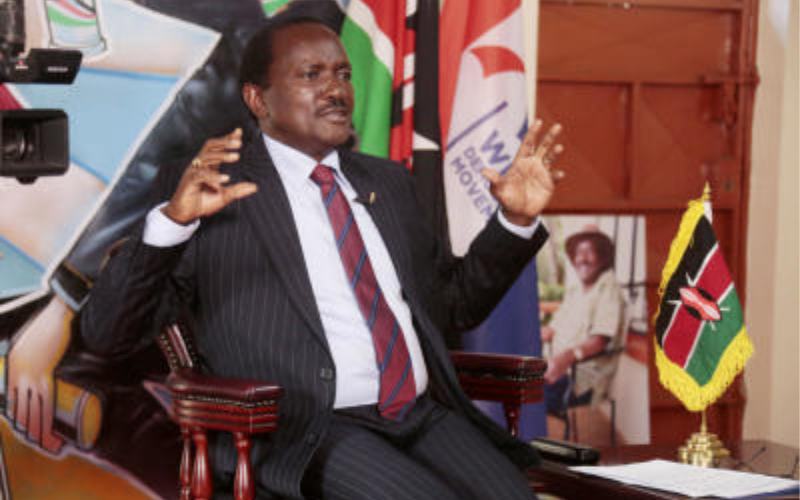 After delivering a statement that accused ODM leader Raila Odinga of betrayal, Wiper Party leader Kalonzo Musyoka carries the countenance of a man whose burdens are lifted.
Seated at Wiper's command centre in Karen, during this interview, Kalonzo does not carry the face of a worried man. He radiates confidence. "I will sleep very well tonight because I have told Kenyans what they need to know," he said today.
Among other things he had to lift off his chest was the impossibility of working with UDA on grounds of differing values. In recent months, the Kenya Kwanza camp, just like Azimio la Umoja, has attempted wooing the Wiper leader who commands a chunk of the Eastern region votes as was evidenced by the over 850, 000 votes he garnered in the 2007 elections.
"I cannot work with UDA because of values that I stand for because we know each other in this country. I don't think I'm ready to work with UDA," said the Wiper leader.
Similarly, the former vice president refuted claims that OKA is joining Azimio but rather coming into a partnership to form a "grand coalition".
Challenging the  label of an indecisive man, Kalonzo once a boy scout and rotary fellow said: "I am a professional, simple and with a need to give."
The Wiper leader explains that decisions made within the coalition and by OKA will follow rigorous negotiations which will be agreed upon by all parties involved.
Kalonzo's stand is that OKA's position in forming the grand coalition as the third leg of the three-legged stool underlines his belief that all parties are equal partners and no leader in the coalition carries the anointed right to be president.
The Wiper leader also confirms that OKA remains firm and will not be swallowed by any party as different formations continue forming ahead of the election.
"OKA is very solid. My friend Gideon Moi and I are like twins and we have our brother Cyrus Jirongo and our sister Martha Karua with whom we are going to sign a document tomorrow to really give some official status to OKA," said Kalonzo.
Will he be ready to support Raila Odinga? The former Vice president believes that if that is the result of the negotiations then it will be an option. However, Kalonzo says that no one is indispensable including him and Raila and argues that any of the leaders within the coalition can carry the presidential flag.
"Can you imagine if today Raila says let brother Steve continue? There will be no UDA in this country. It will be the end of the game," says Kalonzo.
As talks centre around the new union between ODM, Jubilee and OKA, Kalonzo says that any coalition agreements made have to be made public to avoid history repeating itself where agreements are left as nothing more than mere pieces of paper with elaborate signatures on them.
"I will negotiate from the front and it is obvious I am eyeing the top seat," said Kalonzo.