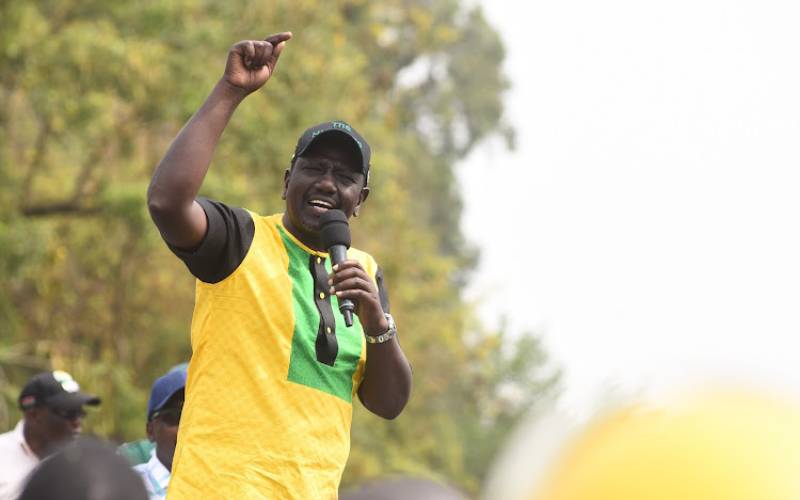 Deputy President William Ruto has called out ODM leader Raila Odinga, saying he is wealthy but not willing to share his wealth with Kenyans.
Ruto was addressing Kitale residents at Kenyatta Stadium, in the company of his Kenya Kwanza Alliance.
In his address, the UDA leader alleged that the former prime minister had a liquor manufacturing company, yet he complains when the DP shares his proceeds in campaigns.
"I want to address the riddle man (Odinga). Do not be a liar. Do not be selfish. You have a liquor manufacturing company in Kisumu. You are rich," the Deputy resident claimed.
He then added, "Your company sells alcohol and has spoiled youths in Kisumu so don't complain when I give out Sh2million to the hustlers. That is very little money,".
In addition, the DP also condemned Odinga for allegedly bringing disunity in the Jubilee Coalition government saying that the former opposition leader hindered them from delivering their promises to Kenyans.
"Some people invaded and divided our Jubilee government. They brought bad politics, killed the opposition, hindered implementation of the Big-Four agenda and brought reggae to create positions for themselves," he added.
While taking credit for the recent government projects in the area, Ruto urged his supporters to vote in the upcoming elections to 'eradicate pride, greed and tribalism'.
"I want to urge you all to vote and remove greed, pride and tribalism. They should know that you (electorate) are the ones who make decisions in the country. If we don't stop them and allow them to choose leaders for us, then they will help us with our wives as well," he added.