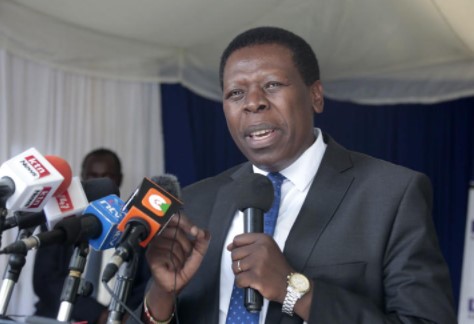 Defence Cabinet Secretary Eugene Wamalwa has hit out at Deputy President William Ruto over remarks he made on Tuesday, March 15 at the UDA National Delegates Conference (NDC).
Wamalwa accused Ruto of undermining President Uhuru Kenyatta and his projects.
"You cannot be the principal assistant to the president and resist the same democracy," the DAP-Kenya founder said.
The CS, seemingly unamused by Ruto's speech, said the deputy president cannot openly defy the president, while still holding office in the same government.
"Ruto's speech yesterday (Tuesday, March 15) had very little truth and so many lies in it. The irony is that he's serving the same government that he's criticising."
He also claimed that the DP's slogan of being a "hustler's president" smacks of division.
"You cannot be the president of only one section of the country (the hustler nation) …you have to serve all Kenyans, both the rich and the poor," he said.
The DP on Tuesday suggested that President Kenyatta was using State machinery to settle political scores.
Without mentioning Uhuru by name, Ruto said the Head of State had led a government that plunged Kenyans into debt, impoverished farmers and frustrated legitimate businesses.
"Our competitors are the masters of monopolies, agents of conflicts of interest and State capture and we must free this country and our agriculture from brokers and cartels."
"Boda boda were victims of a weaponised fight against people who don't share in the belief of those who hold the levers of power today," he said.