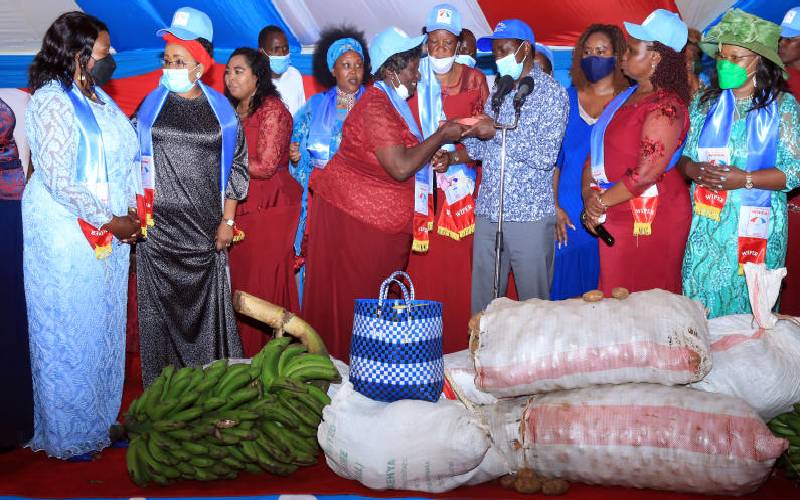 After bruising political party primaries, candidates for governorship have another test ahead, which may make or break their ambitions; picking their running mates.
Most of the gubernatorial candidates have picked women in a bid to sway the women's vote but have been careful by ensuring that regional and ethnic balance is taken into consideration.
Some counties are classified on the basis of North and  South while others with different communities have unwritten rules to ensure that a gubernatorial candidate from one community must pick a running mate from another community.
The impeachment which in many scenarios have been initiated by the Deputy Governors in cahoots with ward representatives has also been a major factor being prevailed upon by the candidates who seem to target women.
Women leaders seem to be less lethal politically and may not seek to manipulate County Assembly to overthrow their bosses and ascend to the governorship through the back door.
A case in point is Nyeri where Governor Mutahi Kahiga bitterly fell out with his Deputy, Caroline Karugu who instead of engineering an impeachment motion against him, proceeded to court to argue her case.
After a successful impeachment of Kiambu governor Ferdinand Waititu, his Deputy James Nyoro after assuming the position of the governor picked Dr. Joyce Wanjiku Ngugi as his deputy.
Among the candidates who have named women as their running mate in  Mt Kenya include Farmers Party leader Irungu Nyakera, UDA's Irungu Kangata (Muranga)Jubilee' Jamleck Kamau (Muranga).
Others are The New Democrats's Dr Thuo Mathenge (Nyeri) UDA's Mithika Linturi (Meru) among others.
Nyakera picked former Nominated MCA lawyer Catherine Mugo who later served as a member of Muranga County Assembly Service Board
Mugo had developed interests to seek for the county's Women Representative through UDA, before Nyakera convinced her to abandon her ambitions to be his running mate.
"We are trying to get as many women as possible on top of the table so that they are part of the decision-makers,' Nyakera said while unveiling Mugo.
Senator Linturi who is eyeing the county chief executive has named youthful female lawyer Linda Kiome as his running mate in a strategy that seeks to woo women and youth to back his bid to unseat Governor Kiraitu Murungi.
The youthful lawyer acted as the President of the Law Society of Kenya when Nelson Havi was ousted in January while she is still the chairperson of the Mt Kenya LSK branch caucus.
She has also served as a board member of Meru National Polytechnic and Meru Teaching and Referral Hospital.
Linturi will face Kiraitu while Murungi is defending his seat on his new Devolution Empowerment Party (DEP) while women representative Kawira Mwangaza is seeking governor's seat as an independent candidate.
Dr Thuo Mathenge has also nominated a woman, Dr Wanjiru Maina as his running mate.
Maina, a scholar and a banker who brings her experience in accounting and finance and is a staunch Christian at PCEA Kiaruhiu church in the populous Mathira Sub-County and is expected to attract the Christian community to vote for Mathenge's bid to unseat Kahiga.
She holds a PhD in BA in strategic management from Jomo Kenyatta of Agriculture and Technology and lectures at Karatina University where she has risen from a marketing officer at Mwananchi Sacco in Nyeri.
"I bring with me homegrown leadership skills and I will play a vital role in assisting Mathenge to run the county if voted in," she said after being unveiled by Mathenge.
The gubernatorial candidate said he had not known about Maina and that she was recommended by a farm laborer who got wind that he had announced for candidates to apply for the running mate.
"There were five leaders who had applied to be offered the running mate position but a farm laborer who got wind of the news recommended Maina and I found her fit for the position since she resonates with the voter," said Mathenge who is also an industrialist.
Maina while accepting her nomination pledged to compliment the governor if they are elected to office vowing never to upstage the governor in a bid to replace him.
"It's an honour for the nomination and I assure him that I will not compete with him but compliment his efforts to serve the great people of Nyeri. Other candidates should follow the footsteps of Mathenge and nominate women," pleaded Maina.
Former Kigumo MP who unsuccessfully tried his luck to unseat Governor Mwangi Wa Iria has picked scholar Dr Naomi Kagone from Mathioya to balance the North and South regions that describe Muranga.
Kigumo, Maragua, Kandara and Gatanga are classified as Southern region of Murnaga while Kiharu, Mathioya and Kangema as classified as North region.
Dr Kagone was a director at the Kenya National Chamber of Commerce and Industry and sits in the Kirinyaga University and JKUAT management councils.
Dr Kagone said she would use her expertise in small enterprises, digital marketing and financial literacy to uplift residents and attract investors.
 "I believe you cannot separate politics and business. For the trade to thrive there must be a conducive political environment that allows growth and development," she said.
 Kamau said he settled on her after learning of her capacity to inspire growth in the health sector, businesses as well as empowerment of women and youth.
Kangata who hails from Kiharu has settled on Dr Winfred Njeri Mwangi from Gatanga.
Njeri a PhD holder has been a lecturer at the University of Nairobi (UON) and has 20 years of experience as a land administration consultant dealing with land development applications.
"She will solve all the land disputes which are rampant in Muranga," Kangata added.