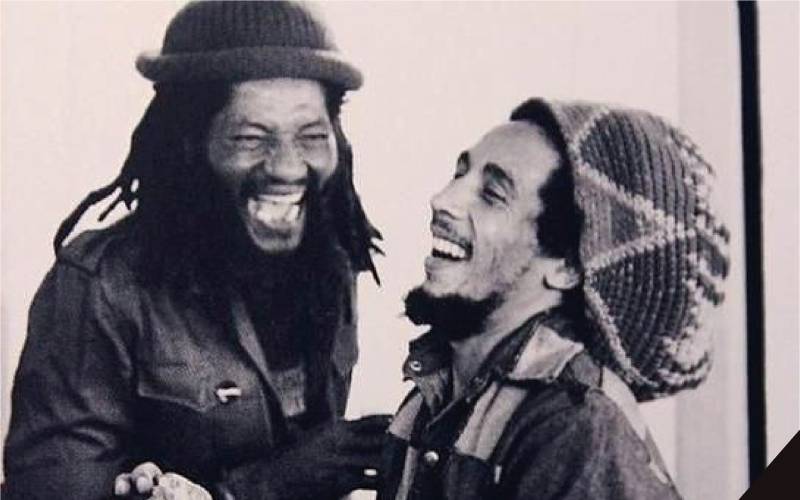 Barely a month after Georgie, the boy who kept the fire burning in Bob Marley's early life passed away, yet another influential player in the reggae star's life has kicked the bucket.
Alvin "Seeco" Patterson, a percussionist of Bob Marley & The Wailers band passed on yesterday aged 91. He was the oldest surviving member of the original Wailers band and arguably Bob's best friend.
Born in 1930, Seeco was 15 years older than Bob when they met, and was more of a father figure to the younger Marley, guiding, reassuring and encouraging him.
Born Francisco Willie, in Havana, Cuba, Seeco's life bore striking similarities to Bob's;born of deadbeat father, and a life of abject poverty that entailed slaving in mines for a living, until music came to his rescue.
"Rest in Zion brother 'Seeco' Alvin Patterson, your memories will forever live on. Fly away home to Zion," an Instagram post in the group The Wailers Official read.
Reggae historians credit Seeco with taking the newly formed Wailers group of Bob, Peter Tosh and Bunny Wailer to Coxsone Dodd's Studio, Kingston in 1964 to record their first hit, Simmer Down.
In "Marley" the Kevin MacDonald documentary, Bunny who died earlier this year recounted how Peter ran in the streets semi-naked, with soap drooling over his lanky frame, a towel wrapped on his torso, after he heard the song blaring in the radio.
"He was running trying to come to us, and we were running to him. We all come together at one spot… at Skip-a Lawn," Bunny told Macdonald.
The Wailers had now been launched, and Seeco hovered around them, throughout their lives, until they passed on, one after the other. Bob died in 1981, Peter was killed in 1987 while Bunny died last year.
Seeco toured first with the trio in their initial forays before he settled with the more adventurous Bob, his percussion sounds enriching his tracks. The tinkling of the milk bottle in the track "jamming" is unmistakable addition to the quality of the song as were the crazy percussion clangs in "Crazy Baldheads".
In real life, it was difficult for Marley to hide his deep sense of affection for Seeco. While introducing his band members in life shows, and whenever it came to Seeco, Bob would excitedly call him out a little louder, sometimes repeatedly.
"Do you see that man over there shaking the tambourines? I wanna know if you see the man over there shaking the tambourine, his name is Seeco!" Bob excitedly introduces Seeco at the Quiet Knight in Chicago, 1975.
Seeco was around at the most distinctive moments of Bob's life; at Coxsone's while launching career, at 56 Hope Road when he was ambushed and shot in 1976, at Central Park when he collapsed, at Rottach-Egern, Germany when he was being treated of cancer and in Kingston when the world bid him a goodbye at a state funeral.
"My heart is heavy. Rest in Zion uncle Seeco," Aiesha Barett, daughter of another original Wailer Aston 'Family Man' Barett wrote on Twitter.
Seeco continued touring with the Wailers after Bob's death in 1981 but retreated from the music in early 90's over ill health. The cause of his death was not immediately disclosed.