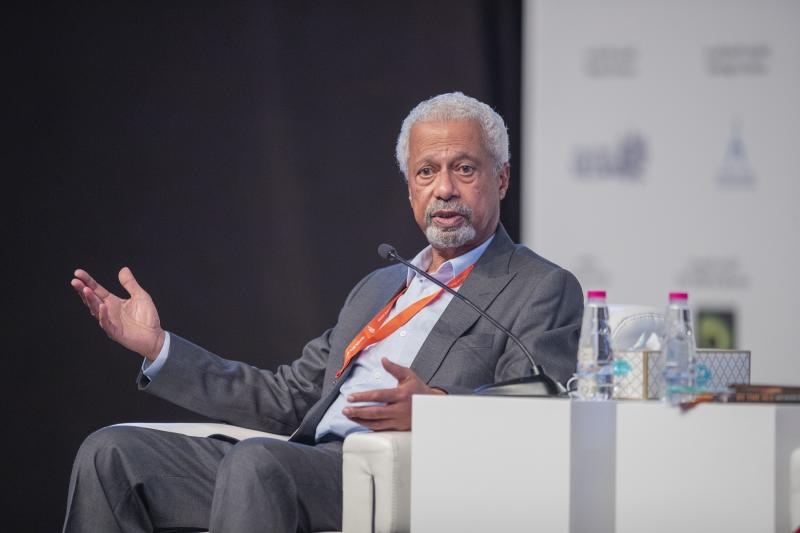 Jamaican poet Claude McKay in one of his famous poems, I Shall Return, once described the longing of going back to the village to loiter by the streams and bathe the brown blades of pending grasses.
The nostalgia aptly describes what the 2021 Nobel Prize for Literature winner Abdulrazak Gurnah brings out on the effects of colonialism and the fate of refugees in a majority of his books.
The UK-based 73-year-old Zanzibar-born writer was a surprise pick for the Nobel for many, but none more than in Tanzania, and Africa, where few know him or his work.
The win made Gurnah the first black African writer to win the prize since Wole Soyinka in 1986, and the fifth writer from Africa to win it. Egypt's Naguib Mahfouz won it in 1988, and South Africa's Nadine Gordimer and John Coetzee won it in 1991 and 2003 respectively.
Following the award, BBC reported that while Gurnah's books have been primarily marketed in the UK, where he has lived for the last five decades, his 10 novels analyse issues close to the heart of Zanzibaris.
He tells The Standard how he left the shores of Zanzibar, off the coast of Tanzania, as an 18-year-old, but it is to the waters of the Swahili seas that he returns to, time and again, to build on finely fashioned narratives where rich histories, identities and relationships intertwine.
Why he left
"I left because I wanted better; I wanted to be fulfilled, even if it meant finding fulfilment elsewhere," Gurnah told The Standard in Sharjah, United Arab Emirates during the 40th edition of the Sharjah International Book Fair.
Prof Gurnah's tales of the trauma of exile, loss and uprooted lives have resonated with readers around the globe. It brings to light history of forceful evictions and memories of historical cultures
that haunt the victims despite success in life.
"Sometimes I wonder who really lost. There were forced displacements that saw many Africans forcefully moved out of their homes but despite the majority having been successful in their lives, they still hold dear their childhood memories," said Gurnah.
The 2021 Nobel winner has published 10 novels and numerous short stories, many of which are themed on migration and assimilation, an attempt used to bridge the gap between popular narratives of asylum seekers and the silenced histories of the displaced.
While in most of his books Gurnah talks about historical cultures, he says a lot of writers in East Africa, including Kenya, are still struggling to publish.
Most of the authors, he said, are dependent on foreign funding to expand their literary works, which can also be supported by governments in a move to expand and promote writing cultures and the love for books.
"The challenge is that in East Africa, authors still lack support to publish their work despite having very brilliant writers. Most of their activities and works are funded outside their countries. Given enough support, African writers can do a lot in expanding their literary work to bring out the cultures and their histories for the world to read," said Gurnah.
While Sharjah International Book Fair draws thousands of writers and millions of books to be showcased under the same roof every year, Gurnah says East African governments should also keep their histories and cultures alive by promoting book fairs and incentives to their authors to compete in the global stage.
"Sharjah International Book Fair has continued keeping Arabic cultures through the years through this fair, which is currently in its 40th year. If African countries can promote the work of their writers, there is definitely a brighter future for the many brilliant writers," he said.
Organised by Sharjah Book Authority, under the theme 'There is always a right book', the 2021 edition of the cultural extravaganza has brought together Nobel and Booker laureates, screenwriters of Netflix series, renowned authors, illustrators and creatives from around the world.
This year the book fair topped as world's largest, hosting 15 million books by 1,632 publishers from 85 countries, representing 1.3 million unique titles, including 110,000, which are making their debut at the book fair.