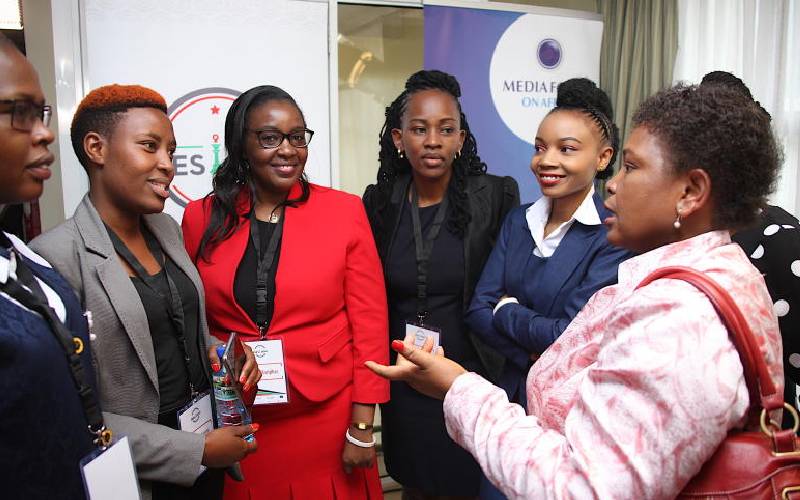 Some 52 contestants of the Ms President contest have completed their first week in the academy in what promises to be a competitive and exciting Season 2 of the leadership themed TV show.
The female contestants drawn from diverse walks of life have until Thursday, next week before they take the first Ms President Leadership Academy break.
The second phase of the academy will see judges heighten the stakes as the elimination process starts. The ultimate winner will take home $20,000 (Sh2.3 million).
Launched at the Desmond Tutu Conference Centre in Nairobi this week, the Media Focus on Africa-fronted show, which will be airing on the Standard Group Plc owned KTN Home, is geared at exposing women to how the country is run.
It is hoped that this will prepare them for future high-level public service roles, whether elective or appointive.
The show comes at a time when the push to have women play pivotal roles in leadership and governance is at an all-time high.
In the past few years, women's representation in the three arms of government has been on an upward scale. The political space in the ongoing political campaigns has women battling for top political seats, among them Martha Karua who is the Azimio One Kenya alliance Deputy President running mate.
"Season 2 of Ms President show is very competitive; the contestants are more knowledgeable. Most of them have been doing a lot of work in their communities while others are highly ranked, some having received Presidential State commendation. They are exposed and highly qualified," said MarieClaire Munyana, a Communications Officer at Media Focus Africa.
With professionals from various sectors leading the coaching, the qualifiers – who were picked from 750 applicants – are being taught issues that mirror the functions of the Office of the President.
With individual and group tasks being conducted in the academy, the training provides an opportunity for the contestants to become well-rounded and informed leaders.
Ms President also aims at increasing women's political representation and participation.
"They are being exposed to leadership in various areas that the presidency handles from economic, governance and leadership as well as etiquette," said Munyana.
"There is no handbook to being Ms President. Just be yourself. Own your journey. I started here and now I am the youngest Chief Administrative Secretary in the current government," said Nadia Abdalla, CAS Ministry of ICT, Innovation and Youth Affairs and chief guest during the launch. Ms Abdalla was one of the contests in Season 1.
Expected to start in June, the Ms President Reality TV show is billed to be entertaining, educating, and thought-provoking. During Season 1, a total of 26 episodes of the TV show were produced and aired, attracting an average weekly viewership of 3.5 million.