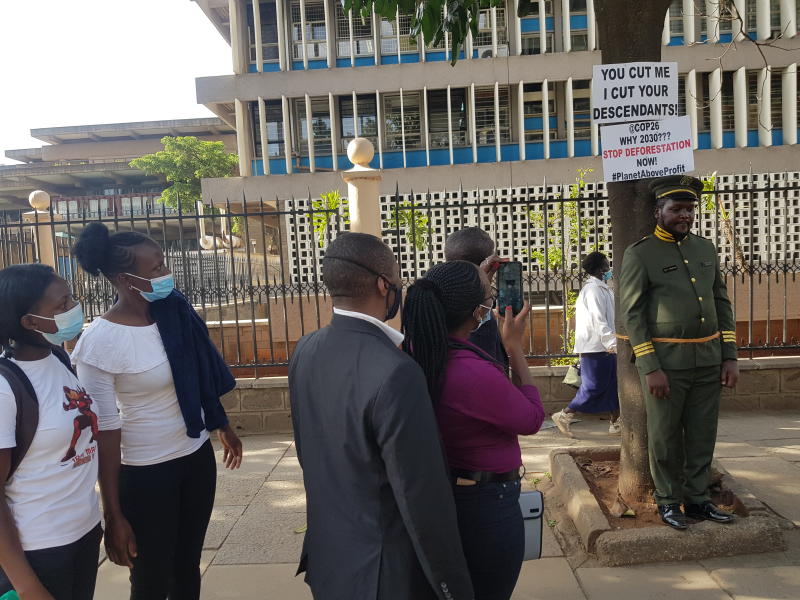 As world leaders were meeting in Glasgow, Scotland, to discuss how to bring climate change under control, one conservationist tied himself to a tree in Nairobi to create awareness on the dangers of destroying the environment.
Climate change refers to long-term shifts in temperatures and weather patterns, which may be natural, although human activities, especially burning of fossil fuels, which produce heat-trapping gases, has worsened the situation.
Human beings impact the physical environment through overpopulation, pollution, burning fossil fuels, and deforestation, changes that have also triggered soil erosion, poor air quality, and reduced potable water.
Raphael Kyee Mbatha, commonly known as Captain Green, believes it will be disastrous for the world to wait another eight years to act on climate change. "The effects of climate change are here with us… We need to act now," Mbatha said from a tree near Jogoo House in Nairobi.
He added: "Millions of Kenyans are not even aware of the climate change talks going on in Scotland, yet they are affected. I tied myself on this tree to attract attention and when people gather to find out what is happening, I take the opportunity to explain to them the dangers of climate change."
Mbatha, while on his mission, was armed with five placards that read: 'If you cut me, I cut your descendants', '@COP 26, why 2030?', 'Stop deforestation Now!' and '#Planet AboveProfit'.
He questioned leaders' vow at Glasgow to end deforestation by 2030 when they hope there will be a decline in greenhouse gas emissions.
Deforestation is a major contributor to the climate crisis. The meeting started on October 31 and ended on November 13. 
World Bank's new Groundswell Africa report released last month shows Africa will be hardest hit by climate change, with up to 86 million people on the continent migrating within their countries by 2050. 
Climate change migration hot spots could emerge as early as 2030 in countries in West Africa and the Lake Victoria basin, according to the report. "Without concrete climate and development action plan in Lake Victoria Basin, countries could see as many as 38.5 million people forced to move within their own countries," states the report.
Mbatha was happy that for the five days he tied himself on the tree, people would stop and ask what he was up to. "I would seize the opportunity to tell them about the dangers of climate change and how planting trees can minimise the effects."
Mbatha started involving himself in conservation in 2013 after graduating from Egerton University with a degree in Environmental Science.
"It was while at the university that I learnt about climate change and how it affects various aspects of society, including tourism and hospitality, and the need for all of us to join efforts and stop it," said Mbatha. 
To him, planting trees is the easiest and one of the most effective ways to deal with climate change.
"This is one of the best ways to fight global warming. We will easily deal with prolonged droughts, increased temperatures and irregular rain patterns resulting from inadequate vegetation cover," he said.
Serah Kahuri, an agroecology expert, said climate change would badly affect Kenya and mess food security if it remains unchecked, with the country's economy being agrarian. "With climate change, we will experience long drought seasons. Crops will dry up or be swept away by flood due to heavy rains that are sometimes irregular. Loss of livestock in arid and semi-arid areas due to drought massively contributes to food insecurity," said Kahuri.
When the country celebrated this year's Mashujaa Day in Kirinyaga, Mbatha joined officers at Athi River Police Station in planting trees.
The following day, he joined Elgeyo Marakwet Water, Lands, Environment executive Abraham Kipchirchir and Kenya Forest Service Ecosystem Conservator Elgeyo Marakwet Martin Mutie at Elgeyo station in Iten to plant trees.
Mbatha said he had also been donating tree seedlings to schools, churches, and hospitals.