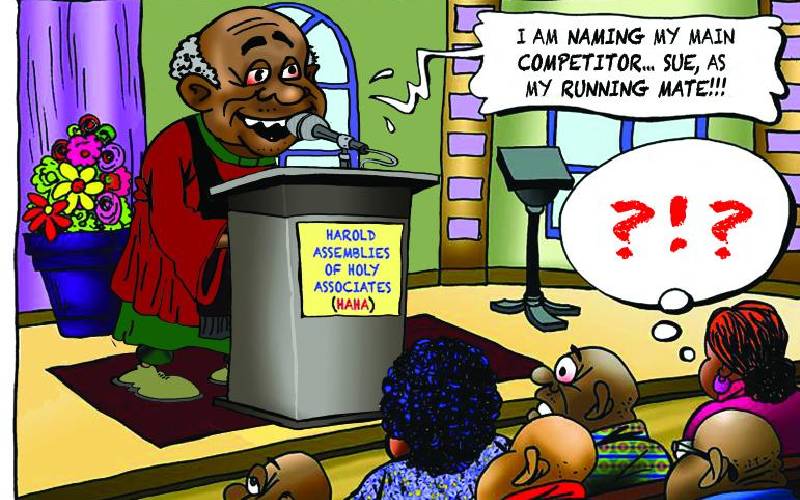 I called journalists for a press conference and reminded the village that the electoral body was giving half a day for candidates to name their running mates. A supremely gifted multitasker, I was both the media and the electoral commission.
A panicky Harold summoned me immediately after and told me he wanted to hear who I had in mind for his running mate. I instructed him to watch Sue first. Her choice would determine his choice.
So we sent out Kinuthia and Paul, our usual spies, to attend Sue's announcement ceremony. Clarissa said she would accompany them and although I smelled a rat, Harold faulted my nostrils.
Was I not the same person that claimed that the smell of avocado reminded me of the forbidden fruit that got Adam and Eve expelled from the Garden of Eden?
Two hours later, Paul stopped at our door breathless, and Kinuthia came tumbling after, panting. 
"I told you," I shouted across at Harold, who was getting his cassock ready ahead of his mega rally at the Harold Assemblies of Holy Associates (HAHA) church.
Harold asked me how I knew the two would be chased away, or were they running because they aspired to be his running mate? Harold's IQ is often on the wrong side of the number line.
"Sue has picked Clarissa as her running mate," Kinuthia said. He seemed to be trying to remember something else to say, but with little success.
Paul looked up at Harold.
"If you lose, it means that mum will still be a powerful person. So, I will not have lost, in any case," he said. I saw Harold's brow furrow, and he nearly attacked his son, but I interrupted.
"Imagine Sue winning, and both the leader and her deputy have been your girlfriends at some point. That will surely hurt, so you need to make a wise choice now," I said.
By wise choice, I meant that in the mega rally, Harold should name me as his running me. There was every chance I was not going to accept the nomination, but then it would be humbling to be named, and the opposition would be disoriented almost immediately.
So I headed to HAHA church, which is also the hall where all of Harold's grand meetings happen. With the help of Paul, Kinuthia and a few busybodies, we arranged seats in anticipation of guests, who were already arriving by the time we left for the doyen, Harold.
When we sauntered into the church with Harold, an expectant crowd cheered. Some jeered in ridicule, seeing as news of Sue's choice of a running mate had filtered through the village.
I welcomed guests, telling them what a great day it was to come to witness the man who was responsible for all the progress Gitegi has ever seen and choose a person to help him do even more. I reminded them that the only car the village had ever seen was owned by Harold, and I had been his co-driver.
Paul winked at me as if he thought by reminding people I was Harold's co-driver I was suggesting I was going to be the running mate. I then called Harold to come to address the gathering.
Harold, for the first time in years, acknowledged Sue, even reminding people how he had brought her into the limelight when they strode around the village on dates. He also said that the running mate Sue had chosen was also affiliated with him, which he called unconstitutional.
It was then that all hell broke loose for me. Harold said that he was naming Sue as his running mate, with Clarissa as the chief minister. By the time he read a position for me, I was not even listening.
I was rushing to the shopping centre where I announced Harold as my running mate. Let the race, and the confusion, begin and let us see how Harold, a bit obese, can run out of this and run for the seat.