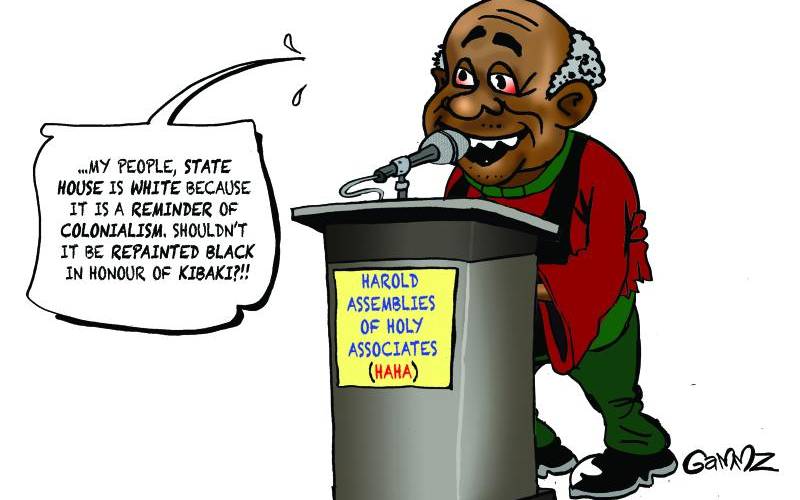 Kenya's third president, Emilio Mwai Kibaki, was laid to rest yesterday. He is the reason I can probably write this piece without too many grammatical errors; he introduced the free primary education programme that finally allowed me to leave Harold's house and attend school, albeit one of the worst.
Harold, who was still charming girls at the time, did not benefit from an education. He, however, smiles every time I mention the Milky Way Galaxy; he remembers Nyayo milk. Which he enjoyed, and is the only takeaway he had from school.
When President Uhuru Kenyatta announced that all flags would fly at half-mast until Kibaki was buried, my uncle, as the head of the village, sent a reminder to the village to fly everything they had at half-mast.
It was thus not a surprise when he today appeared in church wearing a cassock that ends just above his waist, and that looked like a blouse. Harold told us he had gone one further and had trimmed his clothes to conform to the President's directives.
But I later learnt that was not the case. While I was glad that my uncle had finally got his garment back from Sue, who had confiscated it due to debt, I later came to learn Sue had gotten her revenge.
This is because soon after church, as I went around telling people to contribute towards building a wooden plaque outside Harold's house in honour of Mwai Kibaki, I spotted Sue wearing a heavy headscarf that had the distinct colours of Harold's cassock.
I learnt she had repaid herself using the lower half of the cassock as a headscarf or as a skirt.
In mourning the fallen President, we met every day and remembered all the important things he was, and that he did. In the social hall, which also acts as the Harold Association of Holy Assemblies (HAHA) church, the most important people in Gitegi spoke about the fallen President.
"He was unwell prior to his passing on," said Kinuthia, whose memory is so short Planck's length would need to benchmark.
I was the master of ceremony and in the school of Mastering Ceremonies, we were taught that the most influential person in the room is always the last speaker.
So, I invited Harold to speak. To the less intelligent members of the audience, he would be the last speaker.
But then I would give my views about Mwai Kibaki last and would make it sound like the conclusion, which the village political analyst, yours truly, can confidently tell you means I am the third horse in this race, and the most likely to win.
Harold spoke about Kibaki's suits, and it suited him. Harold looks at the aesthetics more than anything. He also spoke about the ex-President's cars, and State House, which he said is white because it is a reminder of colonialism and should be repainted black.
Harold also endorsed Embarambamba, the Kisii musician who has sung a song mourning the President, and told his opponents to hire the artiste so he would sing them dirges when they lost the general elections in August.
Which made Sue furious and she rose in protest. But those who can prevail upon her, and are of course not as good, told her that Harold was wishing her good things. Do you think just any Kenyan can afford a superstar to perform during their funeral?
Finally, I spoke. I praised Kibaki for Vision 2030. In eight years, we will see what he had for us, literally. May his soul rest in peace.
Billionaire's world in 'Little Italy'

None of these though, have a rich history as Falvio Briatore's creation that began with his private home at the Lion in the Sun which forms the Billionaire Resort and Retreat.