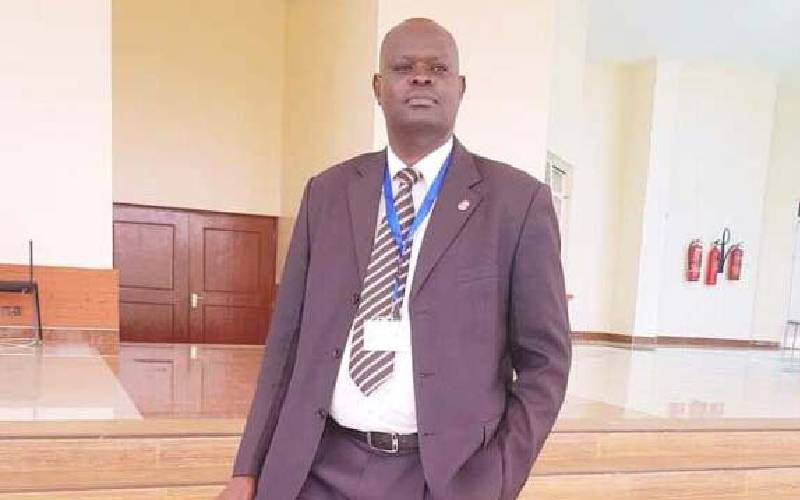 The family of a Kenya Wildlife Service (KWS) officer whose body was among those retrieved from River Yala held a meeting with police yesterday as it tried to come to terms with the death and find justice for their loved one.
In what could be a double tragedy for Francis Isaac Oyaro's family, it also emerged that his close first cousin, former General Service Unit (GSU) constable Jorim Odhiambo Abang', who was attached to State House, Mombasa,  also mysteriously disappeared without trace in 2010.
Oyaro's sister, Winnie Akinyi told The Standard that Abang' was the son of their father's brother.
Oyaro and Abang', the family said, were very close.
Rarieda MP Otiende Amollo had on February 26, 2019 demanded in Parliament that Interior Cabinet Secretary Fred Matiang'i gives status of investigations on the whereabouts of Abang'.
In his response on March 11, 2019, Matiang'i said Abang' was last seen on August 7, 2010 during a Tamaam Parade at 1645hrs, where he was briefed that he would be on duty at 0445hrs on August 8, 2010 at a Nyali VIP Residence in company of a colleague, but he did not turn up for duty.
"Efforts to trace him and establish why he did not turn up for duty were fruitless as he was not in his house which was locked from outside, and nowhere within the State House and 'B' Company Camps in Mombasa where he had friends. Another constable was therefore chosen to replace him for the duty," Matiang'i told Parliament.
He said Abang' did not attend the morning Tamaam Parade the following day and that his absence was therefore reported to the Commanding Officer, 'G' Company. Abang' had served in force for seven years and three months when he went missing.
Oyaro's family, which transferred his remains from Yala Sub-county mortuary to Lwak Missionary Hospital morgue yesterday were unwilling to talk or give any details of their 'lost' cousin even as they denounced the KWS chief inspector's demise.
The grieving family said police gave them 'details' of how Oyaro's body was retrieved from the river, now dubbed the 'River of Death' following the mystery of 27 bodies found dumped in it.
Oyaro went missing last August on his way from his workstation in Marsabit to his family home in Nakuru. His body was identified on Thursday morning as among the 15 which were retrieved from River Yala. 
Oyaro's kin identified his body after receiving DNA results. His wife Veronica Osore (pictured), who spoke to The Standard, said the DNA test was done last week on Friday. 
"I thank God that now we have closure as a family. It has not been easy for us. I am appealing to the government to get to the bottom of this mystery of River Yala bodies. It is only fair that we get justice for our loved one," said Ms Osore. 
Ms Osore said her husband was abducted while in a matatu from Marsabit and his disappearance was reported to the police.
Mr Oyaro's family is among three families that visited the Yala morgue a week ago to identify their kin. 
Mr Oyaro's identification brings to 12 the number of bodies positively identified after being retrieved from the river. 
Mr Oyaro's sister, Winnie Akinyi, yesterday recalled her last interaction with him, adding that her brother was expected by his family in Nakuru on August 28 but he never got home.
"I spoke to him two days before he left his workstation to Nakuru. We had an agreement that he would call once he gets home. On the day he was to get home, his phone signal went off.
"When we tried to reach him around 6pm, which is around the time he was to be home, we could not find him," a devastated Akinyi said.
Ms Akinyi told The Standard her brother was in 'very' high spirits when they last spoke and he did not sound as though he was in any trouble.
"In fact, he was eager to return home. I know my brother and if there was anything or any trouble, he would have shared it with me," she said.
"He did not mention having any problems even at his workplace. He had told me that there was a KWS van that he had planned to use from Marsabit to Nanyuki," added Ms Akinyi.
Yesterday, Rarieda MP Otiende Amollo said he was not satisfied with the answer he got from parliament over Mr Oyaro's disappearance last year.
The MP said Mr Oyaro was his constituent and the family and locals still want to know who killed him and why.
"What happened to the family was very tragic, but now that the body has been found, it brings closure to the family," said Mr Amollo.
"It is clear from the events that those who abducted him were security operatives. The response I got in parliament is not satisfactory yet," he added.
Mr Amollo said he wanted to know who abducted him, and why.
"It is obvious that those who abducted him kept him for a while obviously trying to get information out of him because they thought he had information. Who else would want information if not the security operations? We will not stop until we also get answers," he said.
In his question in Parliament, Mr Amollo said Mr Oyaro arrived in Nanyuki from Marsabit at 1pm before he took a matatu to Nakuru on the day he disappeared.
On reaching Naromoru, the matatu was blocked by individuals suspected to be police officers in a black Subaru vehicle who forcefully bundled Mr Oyaro into the car and sped off.
In a response to Mr Amollo's question on the disappearance of Mr Oyaro, the Ministry of Interior and National Co-ordination on October 14, 2021 said the incident had not been reported at Naromoru Police Station.
Matiang'i said then that the National Police Service was contacting all police stations across the country and urged the family to report the incident to the nearest police station.
Matiang'i outlined measures put in place by the government to prevent abductions and the disappearance of individuals. 
Both Mr Abang' and Mr Oyaro hailed from Rarieda Constituency.
Authorities say 11 bodies collected from River Yala have since been identified and picked for burial as the mystery over who was responsible for the deaths remains unsolved.
It is still unclear who dumped the bodies, with authorities saying investigations are underway.
A local diver, Nicholas Okero, who has been instrumental in retrieving bodies from the river, said some were stuffed in sacks.
Mr Okero said other bodies had deep cuts, ropes around their necks or fingers either severed or burnt in what authorities believe was meant to erase their identities. 
Siaya County Health Executive Dismas Wakla said 15 bodies are yet to be identified.