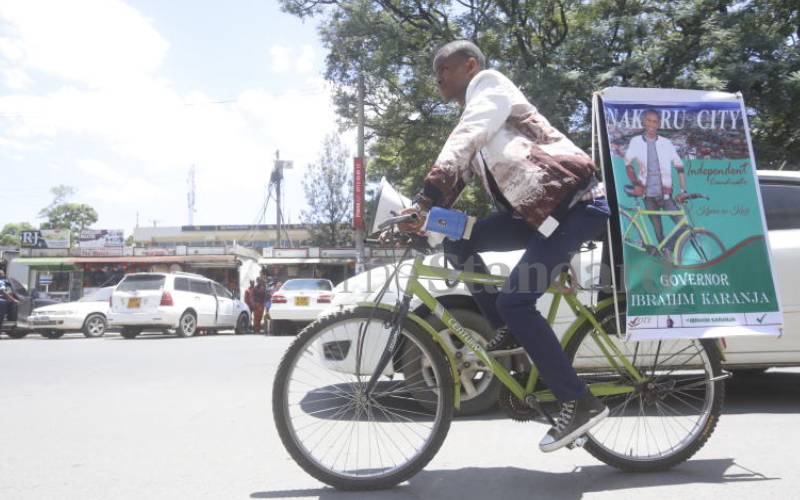 As other aspirants eyeing the Nakuru governor seat use billboards, vehicles and posters to campaign, 26-year-old Ibrahim Karanja moves around on his bicycle.
Mr Karanja wakes up at 6am and starts cycling to several places within the county on a meet the people tour.
While other hopefuls have billboards placed in strategic locations across the county's 11 constituencies, he has none except one poster mounted on his bicycle.
Other aspirants eyeing the seat are Governor Lee Kinyanjui, former Senator James Mungai, Gidraph Mwangi, businessmen Stanley Karanja, Senator Susan Kihika and Elijah Karanja.
Mr Karanja, a teacher, holds a Bachelor's Degree in Education, Mathematics and Biology from Chuka University. He is currently pursuing Masters in Leadership.
The Standard caught up with him on Saturday morning as he was cycling along the busy Kenyatta Avenue in Nakuru town.
On the bicycle is a portable public address system with a pre-recorded message pleading with the residents to vote for him. "I am the son of a mama mboga from Elburgon and I do not have any money to campaign. I decided to use my bicycle to campaign because I believe in my manifesto and myself," he told The Standard.
Mr Karanja, who is vying as an Independent candidate hopes that his friends, family and supporters will help him raise the Sh25,000 fees required by the Independent Electoral and Boundaries Commission (IEBC) to vie for the governor's seat.
He revealed that he has raised the Sh2,500 fees required for clearance to vie as an independent candidate.
Mr Karanja called for sanity in campaigns, noting that many aspirants use a lot of money during campaigns, raising questions of how they intend to recover the same.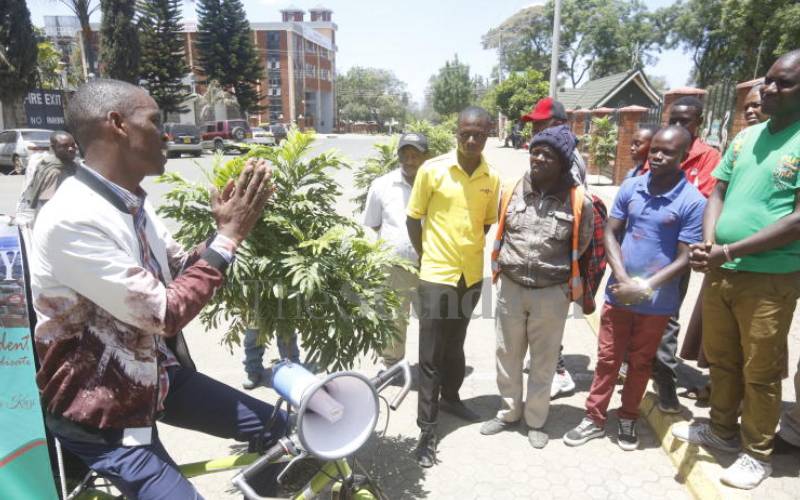 He opted to vie for governorship despite being advised to go for MCA seat. The aspirant promised to address issues affecting youth and women, especially unemployment.
Mr Karanja promised to set up Saccos to enable youth access loans to start businesses.
"My government will give youth a window of seven to eight months where they will not pay for licences because it is burdening," he said.
He noted that a graduate who wants to start a business in the county feels burdened by the capital, stock, rent, and at the same time licences.
"How can the county government be on the neck of a youth who is struggling to get capital to start a business and is still struggling to pay rent, instead of giving them time to be stable," he questioned.
Mr Karanja believes Wanjiku has the final say and even though he respects those deemed frontrunners in the race, he is sure that their money and support from top politicians is nothing without Wanjiku's approval.
"I have faced a lot of criticism, especially over my age, lack of money and being unpopular in the county. However, I know that if elected, I will be indebted to Nakuru residents because they would have elected me despite being broke," he said.
Karanja is also seeking support through social media.
Mr Derick Okumu, a resident, said that as a youth, the aspirant has challenged him not to depend on handouts to develop himself.
"We can still be creative and grow without necessarily having money," he said.
He urged the youth to interrogate aspirants' manifestos first instead of being swayed by handouts during campaigns.
As Mr Karanja does another round within the town, he is confident that his voice is being heard.