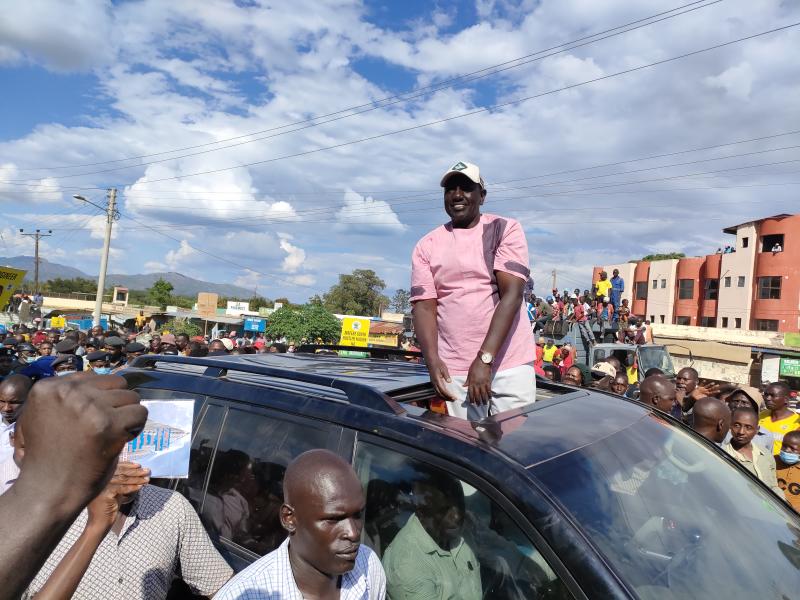 Often, we encounter people who emit such vibes, it's impossible to ignore them. Deputy President William Ruto is undisputedly one of them. He fascinates and annoys in equal measure, but one thing is certain; nothing fazes him.
Early last week, he raised hackles in parts of Central Kenya following remarks that rubbed some individuals the wrong way. The utterances appeared to demean leaders and a governor who seemingly has refused to toe Ruto's line. But then, that is politics for you. Earlier, the DP had stated on a local radio talk show that; "Most of the people who support Raila are governors. Governors are executives and there are 10 or so files on things they have done that could be used to arm-twist them".
Responding to whether he will attend Jubilee's National Delegates Council slated for later this month, he said, "I have not been invited. I don't think I will be invited. In any case we have waited for more than four years for the NDC. I don't see what purpose the meeting will serve. Some of us have moved on and are affiliated to UDA". On reflection, these utterances come across as defeatist and combative.
Several inferences can be derived from them: That executives routinely pilfer public money as part of their unwritten job descriptions. That the government is so dishonest and immoral, it allows sleaze to happen just to keep dossiers on the executives, not for prosecution, but for political exigencies (read political blackmail). Ruto is a senior member of the executives club, so, does that vindicate those who publicly cast aspersions on the source of the largesse he so cheerfully dispenses wherever he goes?
At times Ruto speaks with such passion and intensity while castigating his political detractors that one can literally detect anger and bitterness; an unconscious acknowledgement of defeat. Is that his predicament? He is recalcitrant and combative, always calling others by his pet epithets 'tapeli', 'waganga' and 'wale wa vitendawili'. On any other day, such name calling would pass as the usual mudslinging that politicians are enamoured of. However, given the circumstances, the DP's proclamations are relaying the wrong message.
Of course, it is all about interpretation, but it is easy to view Ruto as highly intolerant, dismissive and insensitive to other people's feelings. Murang'a Senator Irungu Kangata must have felt a flea in his ear when Ruto publicly embarrassed him by refusing to take Sh40,000 donation from him for being 'too little', and this, from a self-professed hustler. If Ruto were to become president and Commander in Chief of the armed forces, is he likely to brook any challenge?
Those aspiring for political office must draw lessons from writer Lawrence Peter's words to the effect that utterances made in anger make the best speeches we live to regret. A belligerent nature is a sign of insecurity. Such attribute is anathema in people who seek to shoulder the burdens of millions of Kenyans without cracking under the strain. We must interrogate the emotional intelligence of public office seekers before casting our votes in 2022.