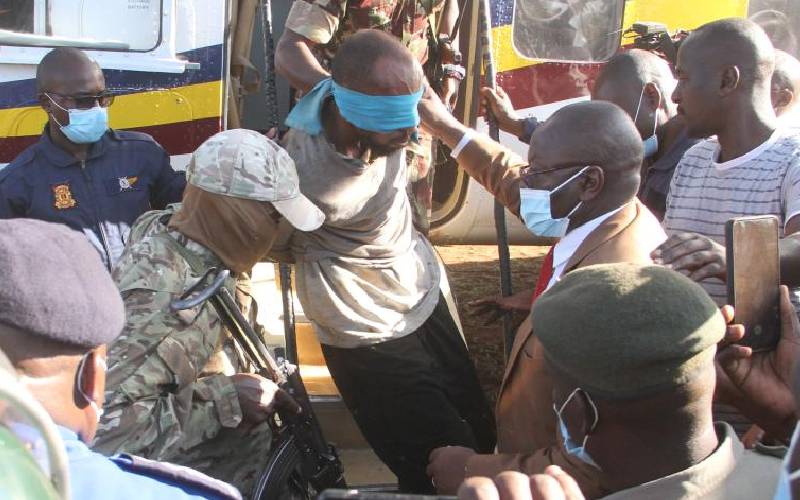 The instalment of Brigadier (rtd) John Kibaso Warioba as the new Commissioner-General of the Kenya Prisons Service elicited howls of disapproval from across the country. Not again, 'we don't need another military doing civilian duty' seems to have been the common line.
It didn't help that Wycliffe Ogalo, the immediate former holder of the office, was seemingly manhandled out of office. Why the government chose to treat a gazetted disciplined officer in that manner is shocking.
But then here was a demonstration of the reality of the efficiency of the government bureaucracy at its best and at its worst (installing the retired military man and then getting rid of Ogalo in the blink of an eye). Before that, Super CS Fred Matiang'i had led a high-power delegation into Kamiti Maximum Prison from where three terror convicts had vanished in the most daring prison break.
Matiang'i promised swift action. It happened. It is rare in modern-day Kenya for action to follow promise in quick succession. But it did.
What was unnerving is the "discovery" of inefficiencies within the Prisons Department.
But does parachuting an outsider to stand on top of what might be the epitome of rotten edifice of our bureaucracy bring about the desired change? That is doubtful.
Dr Matiang'i and Co's "discoveries" at Kamiti including a possibly compromised or unworking IT infrastructure is what British historian and author Charles Hornsby lays out in his illuminating book; Kenya: A history since independence.
Prof Hornsby reckons that Kenya is yet to attain the "bureaucratic ideal" and therefore remains "vulnerable to the distorting effects of clientelism and predation; of the dominance of patron-clientalism and the personalisation (and ethnisation) of decision-making; corruption and the commercialisation of the State and the limited capacity of the bureaucracy to execute policy.
Accountability and transparency take time to build. It is a process; not an event. So instead of building adequate capacity (to execute policy), the current and past administration's answer has been to look for easy options and the military has been one such. Never mind that co-opting military to do what ordinarily is civilian work is an indictment of the Kenyan professional and the institutions of learning building the country's most important capacity (people). It is also short-termism and serves to postpone the problem of a rotten public service.
It's far better to tackle the deeper causes of the malaise.
For in truth, change of this type is akin to mixing goats and sheep. Expecting the goats to act like and think like the sheep is nearly impossible.
There is adequate proof that "culture eats strategy for lunch". Anybody coming into such institutions characterised by an ossified laissez faire culture of "doing just enough" soon realises how difficult it is to be accepted, much less get things done.
Studies have shown that change management that comes from the inside, bottom-up is sustainable and effective. In the case of the Prisons Service, other than performance management, does the military man have the carte blanche to address pressing work hygiene issues like altering the terms of service for his new charges, read pay, other social welfare matters and the work environment?
Or is he just a figurehead who will soon weary of the expected resistance to change?
This is not to say that this has not worked before. Richard Lesiyampe tried it at Kenyatta National Hospital with remarkable success before he was promoted to PS. And as with all one-man band change; change that is not institutionalised, the malaise cropped up soon after he left.
Elsewhere, history offers great lessons: In 2004, perhaps sure of the term military precision, President Mwai Kibaki appointed Major General (rtd) Hussein Ali as Police Commissioner. The general's task was to fix the much-maligned police force; turn it into an efficient, responsive service, rid it of corruption and bolster its human rights credentials.
Needless to say, Ali left in ignominy in September 2009 with crimes against humanity charges and human rights abuse, including forced disappearances, hanging over his head.
Mr Kipkemboi is Partnerships and Special Projects Editor, Standard Group