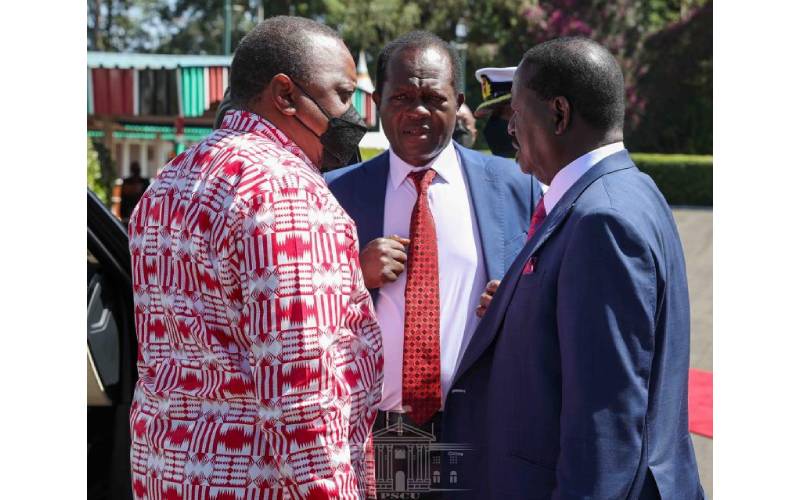 On President Uhuru Kenyatta 'succeeding himself', let me play the devil's advocate for once. I wouldn't want, like any other Kenyan, a Putin-like arrangement where the person in office plays a secondary role to the person legitimately elected to be my president.
Resistance to what is now in the public domain, that Uhuru will endorse Raila Odinga, should be framed better. It should not come out as a political threat to national stability.
For a start, an endorsement from the incumbent carries weight. However, the weight can only cause nightmares to those opposed to the candidate if he is powerful enough to overrun competitors. Critically then, the outgoing president must have accomplished such great work that he carries many voters with him. George Bush junior could not endorse John McCain because by the time he was vacating office, his rating had gone so low that his presence next to a candidate would have spelt doom for that candidate.
By resisting Uhuru's endorsement of Raila, we are admitting that Uhuru has ground influence. The influence is a sign that indeed the president delivered. I am a witness of the good roads constructed across the country during Uhuru's regime. I cannot claim that the mega promises made on free laptops to children, stadia, job creation, food security, housing and medicare among others, have been achieved in any significant manner. I am not a witness for these.
Instead of lamentations, the endorsement of Raila, should motivate the 'opposition' to intensify its campaigns for a resounding victory. Lest we forget, McCain conceded defeat like a true political leader when he acknowledged Obama's win.
Inter alia, he said; "A little while ago, I had the honour of calling Senator Barack Obama — to congratulate him on being elected the president of the country that we both love," McCain said. "In a contest as long and difficult as this campaign has been, his success alone commands my respect for his ability and perseverance. I deeply admire and commend him".
Of course, those against Uhuru's endorsement could be knowing what ordinary Kenyans don't know. If this narrative's proponents do not tell us the basis of their fears, it is a disservice to Kenyans. The problem with this narrative that borders on secrecy of what Uhuru's real intentions are is that it stocks unsubstantiated fear that negatively influences voter behaviour. Listening to the National Cohesion and Integration Commission during a recent press conference in which the commission warns of election-related violence in parts of the country, it is such narratives that lead to destructive behavior.   
Raila has been in town for decades now. Whether he will be reduced to a puppet, I do not know. If the incumbent had remained with his deputy and so campaigned to have his '10 years also', will that also have been construed as an endorsement? Will the 'opposition' be crying in rallies that the president should not endorse his deputy? Or, is this some sort of campaign strategy that has no real threat beyond influencing voter behaviour? The ontological fears expressed on the endorsement could be pointing to something deeper, but let it be brought out in the open, be addressed now so that we do not head to the August poll with dangerous narratives.
The concerns raised on the Uhuru endorsement could be reason to doubt the Constitution clearly spells the role of the president. Alternatively, if that is not where the problem is, then this thing called the 'Deep State' has real teeth to tear apart constitutional provisions at will.
Bottom line, it is in our interest to run value-loaded campaigns bearing in mind that peace and justice are sides of the same coin. Everyone has a right to vote, be voted and to associate.
Dr Mokua is Executive Director, Loyola Centre for Media and Communication