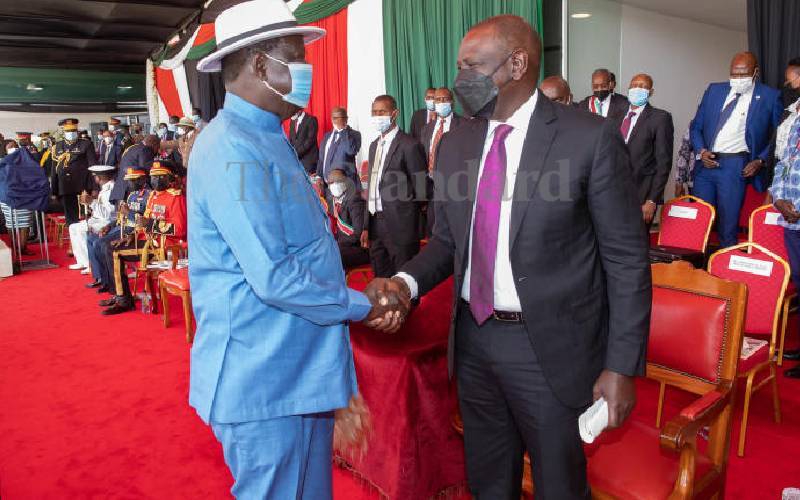 Louis XIV of France cryptically said, "The state is me, and I myself, am the state." His 72 years and 100 days in power (1643 – 1715) symbolise raw monarchical absolutism. It is blasphemous for anyone to think he is the state.
And yet monarchists still exist all over the world, even if only in benign guises. The main difference is that, unlike Louis, they don't crow about it.  
In Kenya, state officers defy court orders because they understand they are the state. So what if they despise the courts? What will you do about it, anyway? That is the attitude. The outgoing regime of President Uhuru Kenyatta will, especially, be remembered for its contempt for the law. Everything else will be forgotten. For, the very top has said with Louis XIV, "L'état c'est moi, et je suis l'état." 
The regal and monarchical character of the Uhuru state, of course, pales before the European absolute monarchies that preceded the Age of Enlightenment (17th century, AD). Yet the leopard never loses his spots. Certainly, Kenya is not Myanmar.
The government doesn't drive trucks through crowds of peaceful protesters. Still, regal and monarchical tendencies reign. Provided that court orders mean nothing to the Executive, the difference between Kenya and malign absolutists elsewhere is in degree, rather than in style and substance.  
Meanwhile, malign and benign states have their projects. When we see President Uhuru Kenyatta, we see the full emblem of the Kenyan state, in one centre. This state staggers awkwardly between democracy and absolutism.
Nothing is wrong with this state having political plans for its succession and continuity after next year's election. Throughout history, sitting sovereigns have wanted to determine their succession. Hence, there is nothing wrong with President Uhuru standing with ODM leader Raila Odinga and his Azimio la Umoja Movement for his succession and continuity. 
Two things, however, are puzzling. First is the discomfort that informs this mission. Uhuru's support for Raila has, so far, been reticent and covert. He needs to state very clearly, "This is my candidate, in whom I am well pleased. Vote for him next year." Covert signals, like breaching national day protocols to show where he stands with Raila are deficient. So, too, is innuendo about the pace of early campaigns.
The state betrays uneasiness with its own assignment. Conversely, Raila's spin doctors have been quoted in this week's press as saying their man "is bigger than size." That, accordingly, he is too big to be anyone's project. This is high sounding nothing.  
The Raila Odinga 2022 presidential bid is a state project, period. Nothing wrong with that. Yet you need to be a pedigree buffoon not to see this. The reasons behind the project are not important for now. They will probably be important a year or two after elections – if Raila wins.
For now, we must only wonder why all the nervousness. Next, we must wonder why this candidature is rolling on the wheels of half-truths and, I suspect, outright untruths. 
The most potent campaign weapon in the Raila arsenal is the war against corruption. This is a good thing. Grand corruption is suffocating Kenya. It is good that the state campaign project should focus on this.
But Raila and Uhuru must address graft in its entirety. Raila must, especially, explain what he purposes to do about the grand corruption schemes he has so eloquently discussed in his autobiography, The Flame of Freedom. He has detailed land matters and other scandals since independence. 
The Ndung'u Land Commission Report is mind-boggling. Theft of public land, before independence and after, knocks you breathless. Raila and William Ruto, the presumptive presidential front runners, must say what they purpose to do about this report.
They must also address the Truth, Justice and Reconciliation Commission Report. What do they intend to do about it? Calling each other names is diversionary, childish and misleading. Both the state project and its alternative must now turn to real issues. Ndung'u and TJRC top the list. 
-The writer is a strategic communications advisor. www.barrackmuluka.co.ke