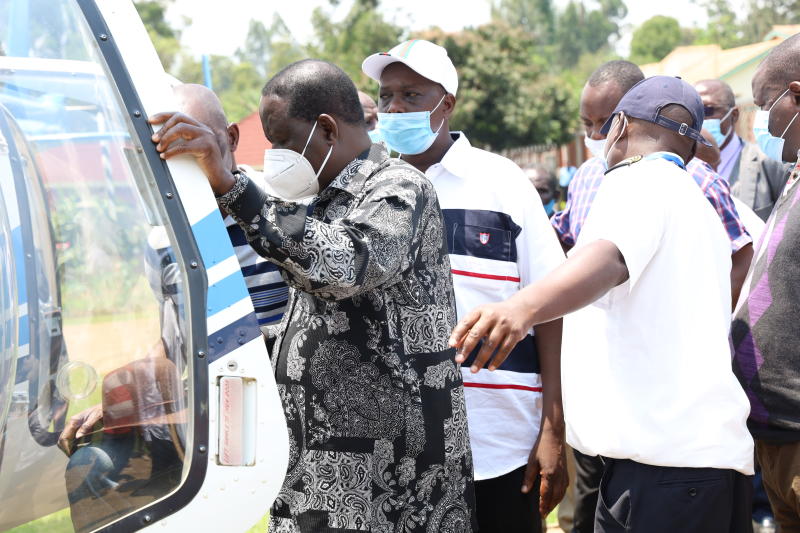 Raila Odinga, aka Baba's chopper has run aground, and someone should get him back in air before he declares: hata hiyo helikota itakuwa chama!
Instead, all I hear is that a commission of inquiry is in the offing to establish the circumstances surrounding the stoning of Baba's chopper last weekend, in Uasin Gishu. Appearing before Parliamentary Committee on Security this week, Internal Security Minister Fred Matiang'i said no stone would be left unturned, including the stones found in the pockets of those nabbed from the rowdy mob.
The minister said preliminary investigations indicated some suspects had wads of notes in 50-shillings denomination, which he said suggested a level of planning and funding. It is not clear how the recovered money is connected with the stoning incident, as the suspects have not been charged with economic crimes.
If the latter is being broached, then the thresholds for economic crimes have been considerably eroded. In 1992, the Goldenberg scandal involved printing of billions of shillings to fund political campaigns. Even then, the handouts at street level were Sh500, compared to the Sh50 notes allegedly recovered from suspects.
Sources at Vigilance said the police are exploring several lines of inquiry. The first is to establish how the hordes that disrupted proceedings at Mzee Kibor's funeral were ferried in trucks to the venue.
"With acute fuel shortages that have left many truck drivers stranded on the road, how did the suspects mobilise and travel to the scene of crime? This points to high-level connections. We suspect the involvement of senior government officials. Only those can access fuel at this point."
The source added: "This was a well-oiled choreography from a rented crowd. We need to find their masters. We'll get down to where the stones were sourced from. Nobody is above the law." More appropriately, no one is below, either.