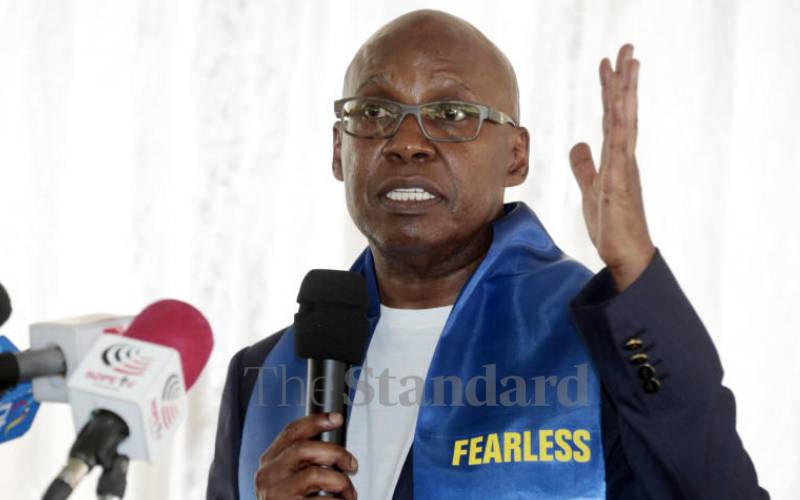 The last time I saw Jimi Wanjigi in the media, he was scramming out of Kasarani Stadium, garlanded by men in black.
I don't laugh at others' misfortune, but I smiled at the subsequent interrogation by an ODM party honcho, demanding to know from the policemen manning the entrance how Jimi, aka James Bond, made it to the VIP area undetected.
The party honcho said Jimi was not an ODM delegate and so shouldn't have been allowed in. "I'm the one who blocked him," he said, so I understood ODM delegates also double as security personnel.
And in this reversal of roles, the policeman asked the ODM man where Jimi was. He said he was hiding in the toilet, then slandered women in a manner that will not be repeated here.
I haven't seen Jimi since, but I doubted he had remained in the toilet all these days. I feared they might use explosives to bring down the toilet door, as they did in his house, to expel him. You can imagine my relief when he emerged this week, received heartily by Safina boss Paul Muite.
Jimi, whose slogan, "Fagilia wote" (sweep them off) was meant to clear all his opponents to pave his way to State House, conceded he had been swept out of ODM, and was seeking refuge and a presidential ticket in Safina.
Jimi's biggest campaign event was unveiling comedian Eric Omondi, as his campaign point man. He then proceeded to give him a posh ride for his work. Anyway, I didn't see Omondi riding the wheel to campaign, but I hope there is room for him in Safina.
It's sad that we haven't seen the best of Omondi and his master, who promised to sweep off their opponents. Perhaps when they said "fagilia wote," they included the two of them.