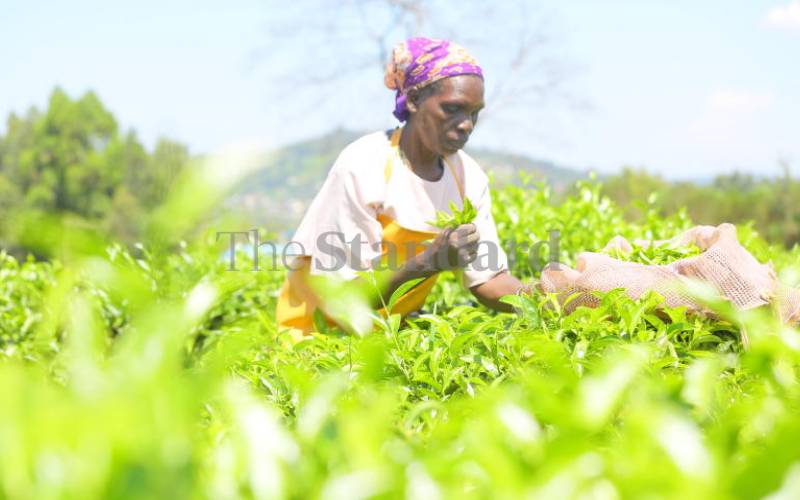 A wave of hope is sweeping over tea farms in Bomet County following the enactment of the Tea Act 2020.
Farmers are happy with the ongoing reforms that target to overhaul the Kenya Tea Development Agency (KTDA) because it will hopefully turn around their earnings. Josea Mutai, a tea farmer from Singorwet in Bomet central, says the reforms are good news to tea farmers who have been burdened by huge KTDA management costs.
"With these new reforms, we are seeing light at the end of the tunnel. The poor prices we got was as a result of KTDA management cost imposed on the farmers and as a result of the side dealing between some officials and brokers," says Mutai.
According to Mutai, it is regrettable that while Kenyan tea is on-demand abroad, the benefits of this never trickled down to them because of KTDA's poor management and selfish interests. Mutai says with the changes at the agency, farmers will start to reap from their tea harvests.
"This is a huge relief to small-scale farmers. We welcome overhaul of KTDA management and their reckless investment through the creation of multiple subsidiary companies. Hopefully, all the profits will trickle down to the farmers," he says.
Mutai, however, thinks the reforms will only hold water if the team that will be brought in stick to the recommendation and are not driven by greed.
"The reforms will gain meaning to us as farmers once it translates to better earning. At the moment we are optimistic the reforms will work. So far so good," he says.
Gilbert Ngeno, a 65-year-old farmer from Sibayan village, says tea farmers have suffered and any kind of reform is welcome.
"We are like a person suffering from an illness and are desperate for a solution. Any prescription is welcome as long as it promises to heal. Therefore the reforms are welcome," Ngeno says.
He accused the management of KTDA of taking the industry hostage and unfairly dictating prices. 
"It does not make sense that some farmers are earning higher bonuses than others in the same country," he adds.
He says for ten years they have never enjoyed earnings from their tea produce. Ngeno cites the introduction of products by KTDA that diverted money that was supposed to trickle down to farmers.
"How on earth would you set up subsidiary companies using farmers' money without our approval and worst still you do not pay dividends?" he poses.
Ngeno says it would have been better for KTDA to be disbanded wholly and a new body initiated to run tea affairs.
Want to get latest farming tips and videos?
Join Us