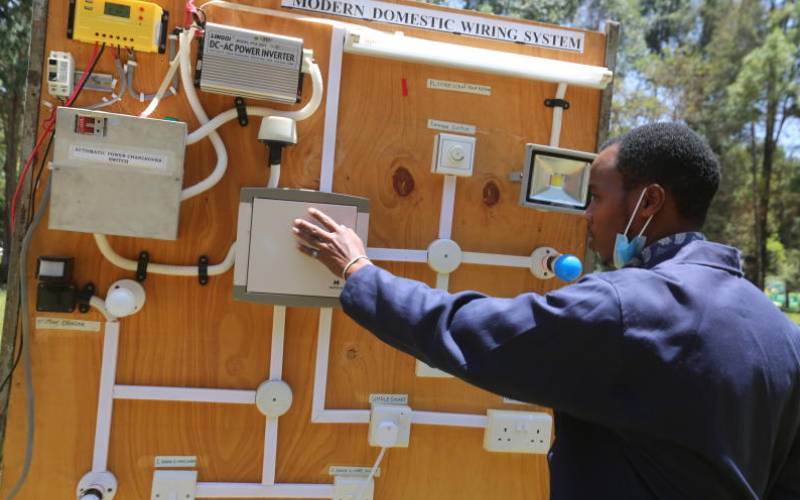 Hard hit by the spiraling cost of fertiliser, fluctuating prices of maize and milk, farmers from the North Rift are pegging hopes of planting this year on innovations.
The cost of a 50-kilogramme bag of fertiliser is projected to hit Sh7,000 during this planting season. On the other hand, options for a cheaper fertiliser are limited because the Russia-Ukraine war is worsening the situation.
As farmers grapple with the challenge, resilient innovators, smarting up from Covid-19 pandemic, are assembling all their brains to produce cheaper products for different sub-sectors. This week, at the Eldoret Agricultural Society of Kenya (ASK) show, innovations that offered hope of reduced farm inputs stood out. This year's innovations addressed issues on crop, dairy and poultry production.
Value addition innovations by youthful farmers also stole the show.
The Eldoret ASK show, which is the first of nine exhibitions across the country, is the start of physical activities for the society's activities since the outbreak of Covid-19 in the country in March 2020. But the Eldoret show was lucky to have taken place, just days before public gatherings were banned.
Organic fertiliser
When shocking news of fertiliser prices shooting from Sh3,000 to Sh6,000 broke a few months ago, Joe Kariuki – the founder of Golden Power Coin (GPC) quickly thought of solutions. Eventually, they settled on an organic fertiliser – Diatomaceous Soil conditioner, which they say, is ideal for planting all crops; from maize to vegetables and which was undergoing piloting.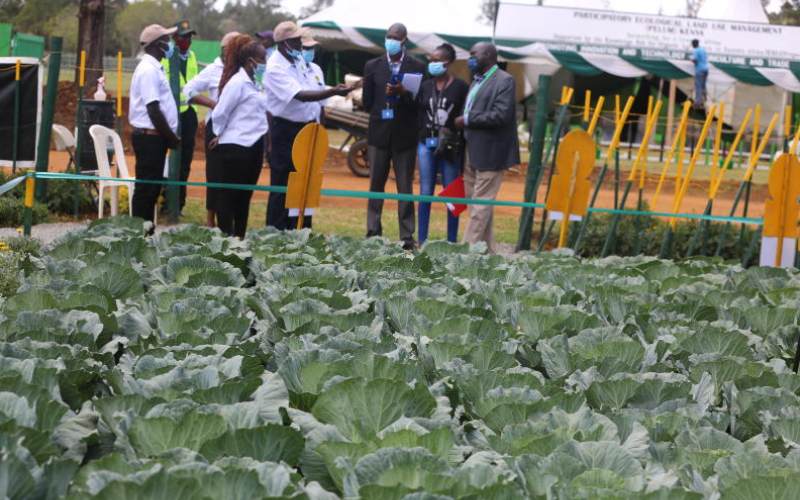 After successful piloting, Kariuki says, the firm started producing the organic fertiliser which also reduces soil acidity. It produces the organic fertiliser in Nakuru but sells to farmers in Uasin Gishu, Trans Nzoia and Elgeyo Marakwet among others.
According to Kariuki, his firm engaged directly in crop production and was compelled by the pain of purchasing fertiliser at high costs, to produce its own.
"The organic fertiliser is beneficial to the farmer, first it is cheaper and helps reduce acidity in the soils. A 60kg bag retails at Sh4,000, and it has all the nutrients contained in the imported fertilisers," he said during exhibition of the product.
He says apart from the 60kg packaging, the firm also packages the fertiliser in 15kg bags for small scale farmers, which retail at Sh1,500.
According to Kariuki, the challenge has been persuading more farmers to accept and make orders of the locally-made fertiliser as the planting season in most maize-growing areas of North Rift beckons. Hamphrey Mandela, an official at the firm says the organic fertiliser contains 85 per cent silica and phosphorus, calcium and magnesium – all making up 14 per cent.
Agsolutions.com.au, describes silica as an overlooked element that is essential for soil and plant health.
"Silicon, often referred to as silica, is just one of many bio-essential minerals. Many crops grown in Australia such as rice, barley, oats, cotton, wheat, rye, sunflower, corn sugarcane, potatoes and forage crops all benefit from silicic acid in their cell tissues. Soil microbes convert silica to silicic acid (plant available form), for constant uptake by plants," the Australian website reports.
Cloud system communication technology
GPC also showcased a new technology, Golden Cloud System (GCS) which connects the firm with farmers in real time, for agricultural extension services while at the same time linking farmers in remote areas with their peers across the country.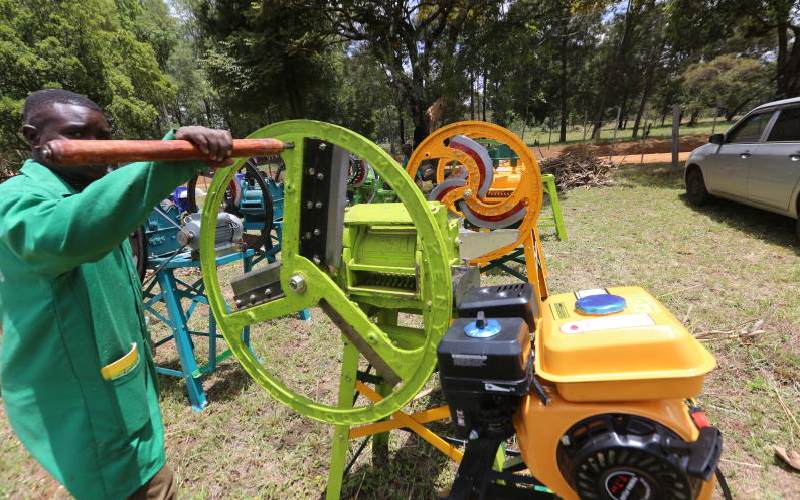 According to Emmanuel Kibet, one of the firm's technologists, the farmers are required to download an application in their mobile phones, to enable them to get connected to the service. The system uses satellite technology to help farmers in remote areas, and who have no access to 4G internet network, to access the service any time of the day, Kibet explains.
He says the idea was conceived during the Covid-19 pandemic period after it became difficult for farmers to access extension services and meet in groups with their peers for training.
"Farmers are only required to download the GCS application. After downloading they access our products, interact with other farmers and talk about markets. They also call for support and get feedback in real time. This enables us to offer them technical support 24/7," Kibet says.
He says the technology was tested in remote parts of Kerio Valley before it was rolled out four months ago. Thirty farmers took part in the piloting, he notes.
"The technology is new and many farmers are not using it. That is the biggest challenge. We hope they will slowly adopt technology because the pandemic taught us the importance of technology to a farmer," he says.
Value addition: Gooseberry yoghurt, sauce and jam
Have you ever thought about a hot and sweet chilli sauce on your dining table? A youthful Viola Maina, through value addition, produced a sauce made of a mixture of pepper and gooseberry. Maina's exhibition was also another centre of attraction from the first day on Wednesday.
She started making her gooseberry hot and sweet sauce two years ago (at the onset of Covid-19) after selling gooseberry fruits from her farm in Kaboi, Uasin Gishu County. Maina also makes gooseberry yoghurt, gooseberry fruit jam and dried gooseberry fruit.
"We are now earning more from the value added gooseberry than the raw fruits. For example, they sell the hot and sweet sauce at Sh100 per 150 grams, yet a whole kilogram of gooseberry fruits at the farm is Sh200," Ms Maina explains.
The innovator sells a litre of gooseberry jam at Sh200, fruit jam at Sh100 and Sh50 for 50 grams of dried fruit. She has been delivering the products to clients comprising retail shops in Eldoret town. 
She grows a Brazilian variety of gooseberry at the farm and gets her seeds from Kenya Agricultural and Livestock Research Organisation.
"We have been producing the value added products manually, in small scale because it is expensive to acquire processors for large scale production. We hope to set up a processing plant in future," she says.
Ms Maina who also buys gooseberry fruits for export says there is a ready huge market for the produce in Europe, but decries inadequate quantities by Kenyan farmers. She says there are two common varieties in Kenya; Brazilian and Colombian types. She says gooseberries and value added products are rich in nutrients such as calcium, Vitamin C, potassium and Iron as well as antioxidants.
Multipurpose machines
In the 2020 edition of the ASK show, solar powered technologies were conspicuously on display. This year, simple machines that serve different purposes were on display.
For example, as a dairy farmer, it is no longer prudent to have a chaff cutter that only chops green matter or the one that cuts dry matter alone. You can have a machine that cuts both dry and green matter.
Eldoret based Mosek Farm Machinery exhibited a 3by3 petrol engine chaff cutter that chops both dry and green matter and which can also be operated manually when a farmer has no fuel.
It has three rollers, enabling it to smash 1500kgs of animal feed per hour. It costs Sh50,000, according to the firm's sales executive and mechanic Micah Rono.
"We also have a multifunctional hay cutter with three parts. One part cuts dry matter and another one chops green matter and there is a part that grinds chicken feed. A farmer can acquire it at Sh60,000," he explains.
Mosek also exhibited sorghum and millet thresher, which also threshes legumes, with an output of 15 bags per hour. It costs Sh105,000.
Avocado oil
Darlyn Chebet saw an opportunity in adding value to grade 2 hass avocado fruits, which do not meet the requirements for the export market. Instead of allowing it to go to waste or sell it to the local traders at throw away prices, Chebet, 24, decided to make avocado oil – a moisturising oil used on body hair and skin. The young farmer named the product Korievado Avocado oil.
"Grade 1 hass avocado meets the export market demands, and grade 2 becomes a waste. I saw an opportunity to make avocado oil from it after I heard a suggestion during a meeting with farmers who export avocado," says Chebet.
Biomass stove
After shelling maize, disposal of cobs becomes a headache, but two agricultural engineering students from the Eldoret National Polytechnic showcased a solution. Job Agwanda and Emmanuel Kiplagat invented a stove that is fueled by maize cobs, but it is designed in a way that burns the maize cobs completely, producing no soot and zero carbon monoxide.
"The stove has two air openings (primary and secondary), but one of them has a fan to ensure there is continuous supply of large volumes of air to burn the maize cobs. We discovered there was a lot of waste in farms especially in maize producing areas and we thought of a solution," Agwanda says.
Eldoret National Polytechnic head of Innovation and Exhibitions department Kipkoech Rotich says there are plans to roll out massive production of the stove after modifications.
Eldoret ASK show chair Susan Seron says it was delightful to see the return of exhibitions after the one year hiatus, noting the many innovations were birthed during the period. Seron says the Eldoret show will act as the benchmark for the remaining ASK shows, among them, the Nairobi International Trade Fair set for September 26 to October 2.