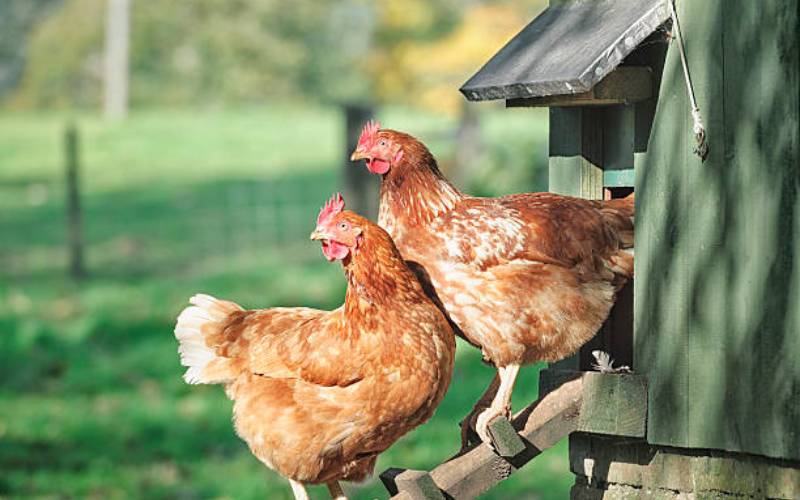 If you are keeping chicken as a hobby or for business, it is important that they stay in a place where they thrive.
To build a good chicken coop, a farmer should consider different factors like the number of chicken, among other things.
Here are a few things to consider.
Choose a good location
The area should be level but well-draining with some good shade. Have the coop closer to your house to provide more protection and to be able to easily keep watch on everything that is going on.
Avoid areas with poor drainage as wet and muddy areas are not good for your chicken. Likewise, avoid windy areas.
Give enough space
The birds need space to move around, about two or three square feet of space per bird and at least four to five feet in an outdoor space. Larger and more aggressive breeds like the Kienyeji rooster require more space.
Ensure the coop includes plenty of space for food and water.
Use rot-resistant wood if possible
Rot resistant wood like cedar is best preferred so that you don't have to think about repairs for a while. Avoid putting toxic chemicals on the wood.
Build the frame first.
Building the coop frame first will give you a better understanding of the project's scope and the overall size of the coop. This will help you make any necessary adjustments to the plan or design to better suit your space and your flock's needs. Outline where the fence will be situated, and consider a concrete foundation underneath the coop's building to make cleaning droppings faster and easier.
Elevate the coop
Raise the house a foot or two above the ground. This is to protect the chicken from predators, also, cleaning beneath the coop will be easier. Preferably, it should have a mesh floor so that the feces fall to the ground.
A gentle ramp can give birds easy access to the structure, and the ramp should have good grip or treads so the birds don't slip as they go in and out.
Put windows
For proper ventilation and for natural light to come in, provide windows.
Consider storage
Include storage space for tools and feed. With this, it will be easier to take care of the chickens and monitor the feed supplies.
Creativity is allowed.
You can build a simple chicken coop for your flock or you can choose to play with your creativity, like matching it with the structure of your home and with the colors as well.
Want to get latest farming tips and videos?
Join Us