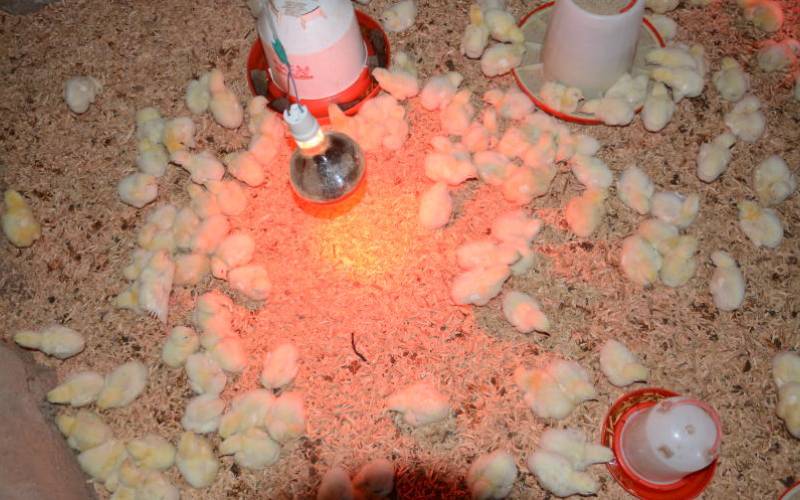 Brooding is the provision of artificial heat to help chicks regulate their temperature. The heat can be provided using charcoal jikos, gas or electric brooders. The brooder area should be ready at least 24 hours before the chicks' arrival. In some areas like Limuru and Mount Kenya highlands, night temperatures can go as low as 12 degrees celsius. Poultry farmers need to pay a lot of attention during the first 14 days of the life of a chick since any mistakes during this critical period are costly. Below is a checklist of the things to be done before the chicks arrive:
Provide the chicks with a clean and well-disinfected poultry house.
Arrange equipment to enable the chicks to access feed and water easily.
Chicks should not have to move more than 1m (3ft) to find water or feed in the first 24 hours.
Position supplementary feeders and drinkers near the main feeding and drinking systems.
Pre-heat the house and stabilise temperature and humidity at least 24 hours before chick arrival.
Achieve a floor temperature of 30 degrees centigrade and 32 degrees centigrade.
On arrival, unload and place the chicks quickly. Ensure feed and water is available immediately. Allow chicks to settle for one to two hours then check behaviour. During brooding, emphasis should be on the following:
Temperature
Spacing
Ventilation
Feed and water.
Temperature control
A chick's body temperature at hatch is normally around 39-40 degrees celsius and this needs to be maintained artificially by provision of heat especially for the first three weeks as the bird naturally develops its internal ability to warm itself. One gas brooder will serve 1,000 chicks. A 50kg bag of briquette retails at Sh500-Sh650 depending on supply and demand. One jiko will serve 500 birds. 
Below are the guidelines of the temperature to be maintained:
The temperature should be monitored by installing a brooder thermometers at the height of the chicks. Also, use chick behaviour to determine if the temperature is correct. Excessive chick noise during brooding is an indication that they are uncomfortable.
Effects of low temperatures (chilled chicks)
Chicks huddle together especially under the heat source and house corners.
Watery intestinal and faecal contents leading to watery/wet droppings and wet pasted vents.
It is essential to maintain the proper temperatures during brooding as chicks which are chilled in the first days of life will be stressed, have increased mortality, get dehydrated, slow growth and a higher incidence of ascites.
Effects of high temperatures (overheated)
Chicks lie prostrate with their head, neck, legs and wings stretched out on the floor.
 
Increased water consumption by the chicks, leading to distention of the crop and intestines.
Chicks move away from the heat source and seek cooler parts of the brooder.
While overheated chicks will be dehydrated, resulting in high mortality, ranting /stunting syndrome, and poor flock uniformity. In severe cases, there will be higher mortality due to cardiovascular failure (flip over). Keep the entire floor with enough wood shaving at depth of seven to eight cm and evenly spread around the brooding area. The biggest risk we face during this cold period is chicks losing heat into the litter if the latter is kept cold. It is therefore important that most of the heat is retained in the litter. Provide double curtains, on the outside and one inside, to help retain more heat inside the units. I would also advise the use of a false ceiling roof made of curtain material to minimise escape of heat. Ensure there is minimum ventilation to allow fresh air in full of oxygen and stale air to escape. The best curtains are made of used feed bags which can still allow air exchange. Do not use plastic curtains at all.
[The writer is Head Vet at Kenchic, [email protected]] 
Want to get latest farming tips and videos?
Join Us