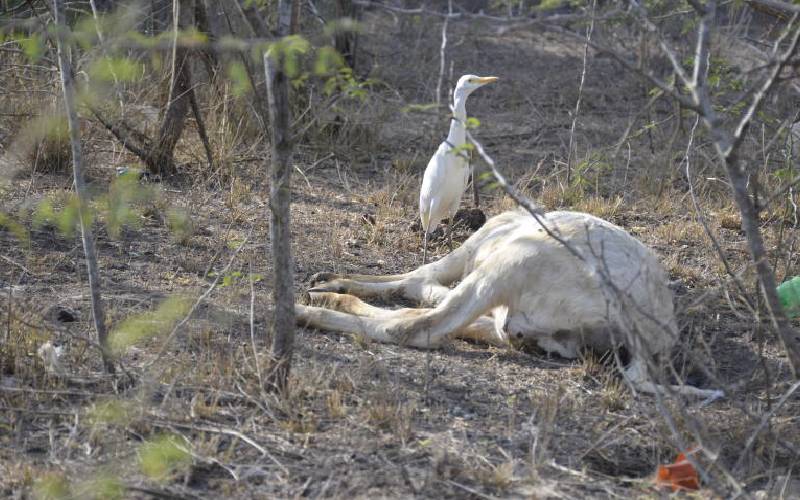 Hundreds of livestock have died as a result of prolonged drought as climate change continues to take a heavy toll on Taita Taveta County and the country at large.
The county is among the 23 counties that have been classified as Arid and Semi-Arid Land (Asal) and in dire need of relief supplies.
Yesterday farmers said they had lost hope as their livestock continue to die due to severe drought that has led to diminishing pasture and water resources.
Farmers in Mwatate and Voi subcounties are the worst affected by the ravaging drought. They say they have lost animals worth millions of shillings.
Livestock farmer Mwandawiro Mbela in Kishushe and Maktau said he has so far lost 162 cows worth Sh6.4 million, 13 goats worth Sh104,000 and eight sheep worth similar amounts, all totalling Sh6.6 million.
Each cow goes for Sh40,000. 
Mbela said another farmer he identified only as Musamuli from Mramba ranch in Mwatate has also lost several cattle.
Siku Ndungani, a farmer in Kasigau location in Voi subcounty, has so far lost 12 cows and six calves in the Jogholo area.
"We are running out of stock as the little supplementary animal feed distributed by the Food and Agriculture Organization (FAO) has run out," said the farmers.
Damson Mwakoro from Jora village in Kasigau location has lost five cows.
"There is a farmer in the area who has so far lost about 50 cows. Dozens of our animals are unable to walk and we are trying to assist them in vain." 
The farmers are forced to take our animals from Jogholo to Bungule village, 20km away.
Some weak animals die on the way as they are unable to reach the only watering point at Bungule village.
Kishagha Dio, a farmer at Kivuko area, said lions killed his three cows, escalating the existing human-wildlife conflict in the region.
Speaking to The Standard, Mbela said they have no one to turn to. "We have been left on our own because there is no one who is coming to save us."
Last month, FAO representative in Kenya Carla Mucavi said they have heeded the government's call for an emergency response to save the affected population.
More than 17,000 people are facing starvation and livestock deaths in the county which recently received 3,000 range cubes pellet, assorted livestock drugs and vaccines, 200 silage bags for kitchen gardens, and assorted vegetables.
"We are responding to the most immediate needs of 1,000 vulnerable pastoral and agro-pastoral communities. This will be complemented with an unconditional cash transfer to the same households," she stated.
 Agriculture executive Davis Mwangoma noted 80 per cent of the total population in the region was food secure while 20 per cent required relief supplies.
Want to get latest farming tips and videos?
Join Us