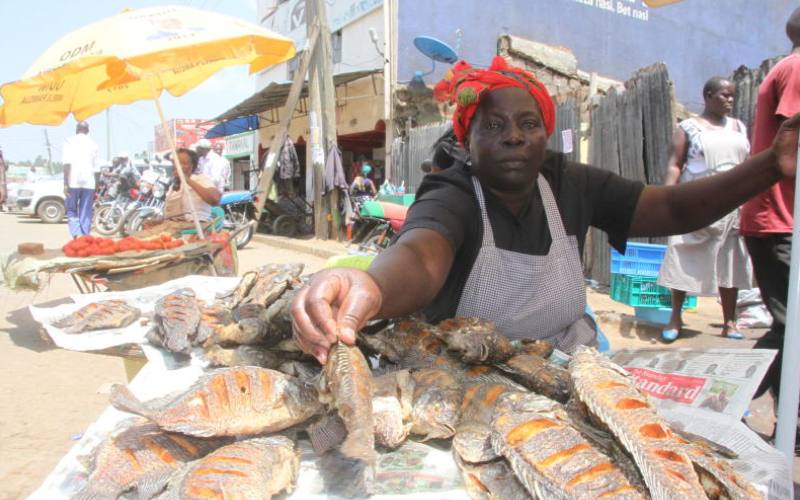 The government has embarked on a plan to increase diminishing fish stock through establishment of fish ponds in 15 counties. This move is intended to increase fish production from ponds from 4,000 metric tonnes to 48,000 metric tonnes annually.
Through International Fund for Agriculture Development the State has developed Aquaculture Business Development Programme to fund establishment of the fish ponds in 15 counties to boost the blue economy. 
Principal Secretary Fisheries, Aquaculture and Blue Economy Francis Owino says the counties are Siaya, Kakamega, Bungoma, Kisumu, Migori,  Kiambu, Embu and Tharaka Nthi.
Others are Kisii, Nyamira, Meru, Trans Nzioa, Kirinyaga, Nyeri and Busia. So far, Sh30 million fish pond materials have been used in each of the counties where the launch has been done. According to the State, the project will increase fish production to 400,000 metric tonnes by 2025.
Cheryl Gumbo, an environmental scientist said the species that have been dropping include Lake Victoria's most loved tilapia or ngege, the tiny fish dagaa (omena), catfish (okunga), knife fish (okoko), lungfish (kamongo/mamba), mudfish, among others.
Pollution in lakes
Gumbo, noted that the reason why fish stock is diminishing is due to pollution in fishing water surfaces.
"Chemicals and waste materials collected from rivers and urban centres around the lakes are discharged into waters causing the death of fish and dwindling fish stock," said Ms Gumbo.
Ms Gumbo also cited the presence of algae bloom (moss) that is consuming the oxygen meant for fish thus causing their death and dwindling numbers. Increased dumping of human waste into lakes and the presence of germs linked to diarrhoeal diseases like typhoid, cholera and dysentery has interfered immensely with fish stock.
"There is an urgent need for authorities and firms involved in the agribusiness to pay practical attention to monitoring and control of pesticides, fungicides and herbicides used in cotton coffee, tea and sugarcane plantations from flowing into Lake Victoria as this kill fish," noted the proprietor of Rusinga Highland Resort Sammy Wakiaga.
Rarieda MP Otiende Amollo who has influenced the Ministry of Education officials to establish the Agok Aqua campus to help train people in setting up fish ponds, says Kenya has turned into fish farming to mitigate her failure/shortcoming in the fisheries industry.
Fish imports
"l used my goodwill with government officials in the Ministry of Higher Education to ensure Agok Aqua campus is set up in Rarieda in Siaya to help train the would be fish farmers in the sub-county," says Amollo.
To thrive, the lawmaker noted that aquaculture industry should be supported by appropriate policies and enough funds. Additionally, the legislator said the government needs to control overfishing, ensure safety on Lake Victoria, control pollution, ensure fishermen have the right fishing gear. The drop in fish numbers has forced the country to turn to imports to fill the gap.
Wakiaga said China's success as a fish supplier is due to Kenya's growing demand for fish coupled with a struggling local fisheries industry and diminishing fish stock. Government statistics show that Kenya produces 200,000 metric tonnes of fish annually against a demand of 800,000 metric tonnes annually.
"Our fisheries industry has witnessed significant decline as inland fresh water fisheries account for 80 per cent of the annual national supply with Lake Victoria supply 85 per cent of inland fresh fish supply for both exports and local consumption," says John Jagongo Obara of Technical University of Kenya (TUK).
To increase fish production and meet growing, especially from Lake Victoria, people are also turning to fish cages, said Obara. However, Ms Gumbo said there are serious dangers linked to fish cage culture. First, it has to be controlled because of pollution and that chemicals used in fish feeds are dangerous to other fish species, noted Ms Gumbo, a Maseno University trained environmental scientist.
Obara, said it is interesting that marine fishing sector just contributes to paltry 15 per cent of national fish supply despite the fact that Kenya has a coastline with 200 nautical miles of exclusive economic zone (EEZ). This, he noted, was before the International Court of Justice (ICJ) robbed Kenya part of her territory. EEZ, as prescribed by the 1982 UN Convention on the Law of the Sea, is an area of the sea in which a sovereign state has special rights regarding the exploration and use of marine resources, including energy production from water and wind.
Lawyer Fred Athuok said Kenya's fishermen at the Coast can only access five nautical miles of EEZ leaving the rest to international exploiter to fish on our waters. This, Athuok attributes to the type of fishing vessels the locals are using, which cannot go deep into the sea. "As long as Kenya remains without huge fishing vessels it will always be a field day for foreigners to grab our fish," said Athuok.