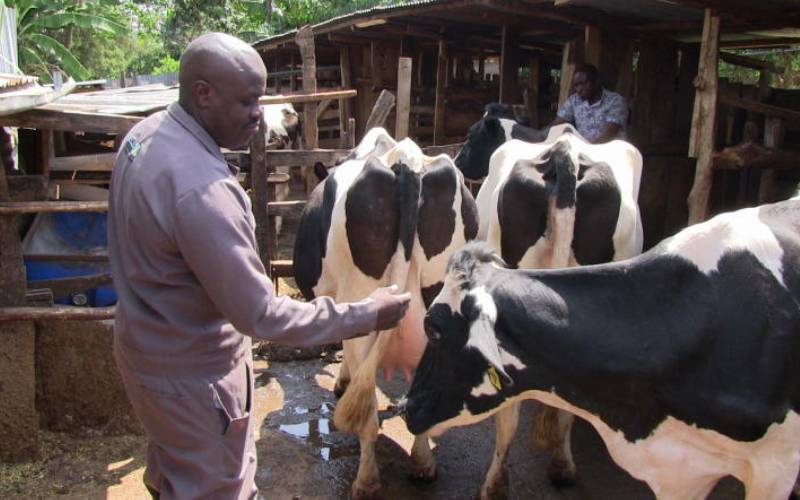 Farmer's greatest secret is making own feeds, proper farm management which has helped keep diseases at bay.
When Gilbert Ngetich bought his first Friesian cow in 2009, little did he know that 10 years later, he would be feted for his outstanding performance in a field he had little knowledge in.
He was awarded a gold certificate last week for his Sweet Farm Dairies Roret farm which stood out among others in the region.
The competition organised by the Ministry of Agriculture Fisheries and Irrigation and Elgon Kenya, a non-governmental organisation, was aimed at encouraging farmers to transform their farms through technology. 
"In 2009, I bought a pedigree Friesian heifer which gave birth to the first heifer the following year. The cows have since multiplied, I now have 13 cows. The number could have been higher than this but I sold some," said Ngetich.
The 41-year-old farmer said he decided to rear the Friesian breed as it's known to produce more milk compared to other breeds. A single cow can produce up to 60 litres of milk per day.
Four of Ngetich's cows are lactating, four are in gestation which means his milk production is set to go up. 
"At the moment only four cows are at the peak of milking. I milk over 90 litres of milk a day. I sell the milk at Sh60 a litre which means I earn at least Sh4,500 daily," he said. 
Apart from selling milk, Ngetich has ventured into producing butter.  
"We sell the morning milk raw but the one milked in the afternoon is boiled and from it we extract the cream that we sell to neighbours," he said. 
They make at least five 500g tins of the cream daily. 
To maintain the quality of his breeds of cattle, Ngetich said at the beginning of every year he identifies at least ten Artificial Inseminators with quality and superior seed. 
"I do a thorough research before settling on a bull for the seeds. This has helped me maintain the quality of the breed which also means consistency in the quality and quantity of milk produced," he said. 
To feed the animals, Ngetich makes his own feeds. 
"I realised by making my own feed, I minimise the risk of diseases finding their way into my farm, I am also able to maintain the quality and cleanliness of the feeds which is very important," he added. 
But since his quarter of an acre farm is inadequate, he leases three acres in the neighbourhood where he grows boma rhodes, maize, oats and sorghum which are used to make the feeds. 
An acre which he leases for Sh6,000 produces 100 bales of boma rhodes which would have cost him at least Sh60,000 per year. 
Each of Ngetich's cows consume 20-30kgs feed in a day. 
From animal waste, the farmer generates biogas which is used in his home while the rest is used in his farm where he grows vegetables. 
"I have planted various traditional vegetables which earn me at least Sh400 per week," he said. 
Ngetich said one his greatest tips in succeeding in dairy farming is proper farm management adding that a simple issue such as keeping the sleeping area wet and untidy is reason enough for a cow to cut its milk production.
"Cattle, like human beings love comfort, when you treat them well, they return the favour by producing more milk. If the area is wet and dump, the cows will be at the risk of contracting mastitis. A farmer must also ensue the place is not infested with flees and other disease carrying parasites," he noted. 
Besides focusing on dairy farming, Ngetich has also ventured into bee keeping. 
"I have 20 beehives. At every honey harvesting season, I harvest at least 20 litres of honey per season," he said. 
He sells a litre of honey at Sh1,500. 
"I make between Sh20,000 – Sh30,000 from honey every harvesting season," said Ngetich.