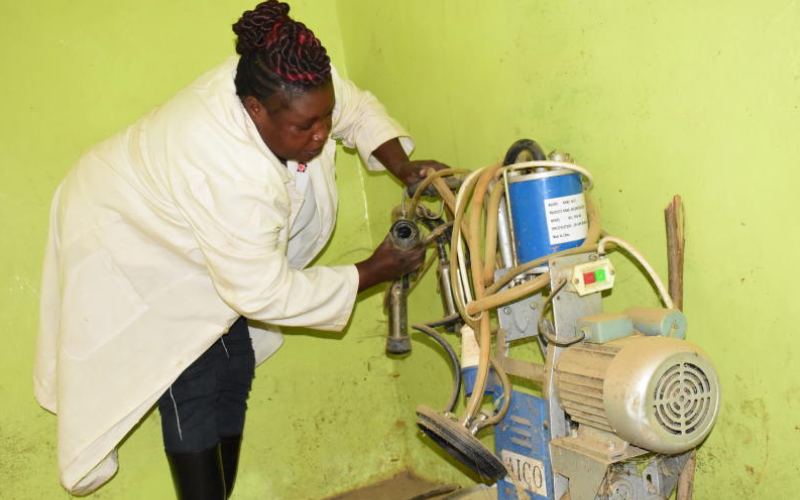 Dear Daktari, 
I am a dairy farmer and is slowly moving from hand to machine milking. Please advice on this milking technique for my benefit and other farmers. [Michael Muchai, Nyandarua]
Thank you Muchai for that important question. Milking machines have over time been adopted in Kenya and it is a good indicator that our dairy farming is growing. A milking machine is an important tool and one that used two or three times a day on a dairy farm to harvest milk which is the main output. It is therefore a very important machine but in the same breadth it can also come with udder health issues like mastitis. This is owing to its use across animals and can also cause hardening of teats (keratinisation). Both mastitis and keratinisation result in reduced milk production and subsequently the income. On the good side, proper use of milking machines can significantly increase farm production and income. 
Read manufacturers' manual
To avoid costly mistakes, it is critical that farmers should read the manufacturers' manuals. Our reading culture is not as good and it is common for farmers not to take time to read these manuals. When you read the manual and understand it, it is easier to pick when something is not working properly.
Vacuum technology
Milking machines use vacuum to extract milk by pulsations that create pressure differences and massaging of the teats to pull out the milk. Unsuitable vacuum levels and inadequate pulsations, overmilking, excessive teat compressions or squeezing can easily cause hardening of teat ends referred to as hyperkeratosis. This hardening interferes with the normal protection of the teat openings from entry of mastitis causing micro-organisms hence exposing the cow to mastitis.
Recommended "mileage"
It is recommended to carry our minor repairs after 750 hours and major maintenance by 1,500 of operating hours. Preferably the milking machines should be checked daily, weekly or monthly to ensure they are in good working conditions. Pulsations should be regular. Make sure that the air admission holes are not blocked. When they are blocked it can lead to fluctuations in vacuum and poor pulsations and subsequently over milking.
Cow Behaviour during milking
The teat liners as a critical component of a milking machines. They are in direct contact with the teats and thus are a critical point to be checked regularly. It is recommended that they are changed every six months. Worn out liners will not massage the teats properly resulting in longer milking time and reduced yields. Worn out liners also serve as a source of mastitis causing bacteria.
Poor milking machines will make the cow uncomfortable. Note that milking time, the time it takes to milk, is usually five to seven minutes depending on the cow's yield.
[Dr Othieno is a veterinary surgeon and the head of communications at the Food and Agriculture Organisation of the United Nations (FAO) Kenya. The views expressed here are not necessarily those of FAO]
Want to get latest farming tips and videos?
Join Us