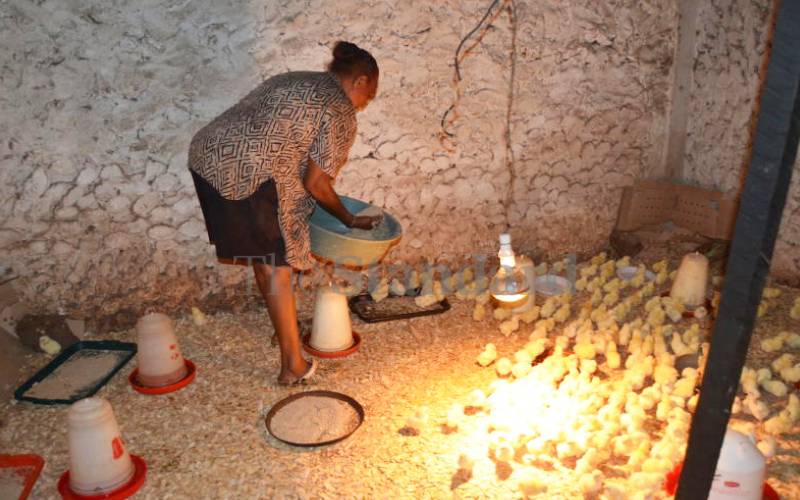 Like other poultry farmers, chicken breeders in Kilifi County are grappling with a number of challenges. From the high prices of chicken feeds to the lack of market for their produce, it is tough.
Zawadi Karisa, a poultry farmer in Mbogolo who owns 5,000 broilers, says lack of market and high price of feed have made her almost bankrupt.
"I buy one bag of chicken feed at Sh3,900 as of now. My business is barely surviving. Many at times I sell our chicken at a throwaway price to avoid losses," she says.
Rosemary Njoki, a 60-year-old farmer in Kikambala, Kilifi County, has been practising poultry and pig farming for the last 40 years. She is also feeling the heat from the high cost of feeds.
"I started pig and poultry farming many years ago and it was manageable. I could pay my bills and have a decent life from chicken money. But now, the high-cost feeds have made it almost impossible to keep poultry,'' says Njoki. To cope, she uses omena and black soldier fly to make chicken feeds. 
Njoki who keeps 100 large white pigs and 200 kienyeji and broiler chicken says the black soldier fly has been an excellent source of protein for her animals.
Struggle to mix portions
She buys the black soldier fly at Sh100 per kilo, though her challenge is how to mix the two ingredients.
"To survive the high prices of feed, I usually give my pigs and poultry BSF, but my biggest problem is how to formulate it," Njoki says.
Broiler keepers have been particularly hit hard by the high cost of feeds because of the nature of the business.
Broiler farming is attractive to many farmers owing to the short nature of the time it takes from the point they buy the day-old chicks to the point of slaughter and sale. They mature within four to six weeks and the farmer starts to get returns. However, things are now different because of the skyrocketing feed prices.
Farmers need to do active marketing so that they do not keep the birds beyond the expected point of sale time to avoid losses.
National Agricultural and Rural Inclusive Growth Project (NARIGP) together with the World Bank has come up with solutions in making sure that farmers can make their own feeds at home.
Geoffrey Kashindi a feed and formulation consultant working with the NARIGP, says they have started training farmers on feeds formulation using locally available raw materials.
"We have come up with several alternatives to make the price of the feed go down by introducing homegrown feeding ingredients. We are using a special type of drought-resistant sorghum called Gadam sorghum," he says.
Gadam sorghum is a short variety with chalky white grain.  It matures in two and a half to three months. It is highly drought tolerant.
For those interested, he advises them to plant them at four metres apart to sprout, where it does four rations in a year.
Scaling down
Kashindi says they have also advised farmers to use green grams, other legumes, and waste to make black soldier fly. Black soldier flies effectively converts organic waste in proteins. These proteins are an excellent source of animal feed. Black soldier fly farming is presently the most widespread form of insect farming in the world.
"As a coping mechanism, we encourage farmers to start black soldier fly farming. It is cheap, sustainable and environmentally friendly. You only need housefly larvae," he says.
From hatching, black soldier fly larvae only take 10-14 days to grow fully. At this adult stage, the larvae are fed to animals, providing a protein-rich food source for livestock.
Although farmers have resorted to making their own feed formulations, the problem is that in most cases they do not get expert instruction. To cope with high production costs, some of them are scaling down production. Prices of feed have been on an upward trajectory between April and August this year with broiler starter mash hitting Sh3,350 at the beginning of the year and now is at Sh3,500.
Similarly, broiler finishers cost Sh3,000 in January and rose to Sh3,250 by May while layers' mash was selling at Sh3,000 at the beginning of the year but rose to Sh3,150 by May.
The prices of all stock feeds rose by more than 100 per cent.