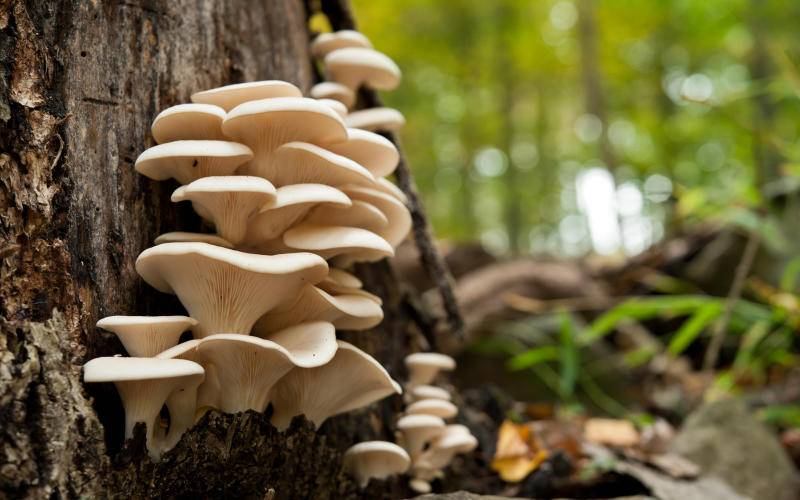 The mushroom is an edible fungus that can be cultivated or found in the wild, however, it needs to be foraged carefully to ensure they are safe to eat.
Mushroom is now becoming popular and a job creator for many in Kenya. They are rich in antioxidants, lean proteins and essential vitamins, according to BBC Goodfood.
Mushrooms are a plant source of Vitamin D, Vitamin B, they contain immune modulating nutrients, support gut health, may be beneficial for the management of neurodegenerative conditions such as Alzheimer's and may be helpful in maintaining heart health, according to BBC Goodfood.
The most popular varieties in Kenya are Button mushrooms. White button mushrooms are small to medium in size with caps averaging two to seven centimetres in diameter and are attached to short, truncated stems. Oyster and Shiitake are other varieties available.
There are, however, many which are not edible and may cause stomach pains or vomiting if eaten, and in some cases may be fatal, such as the common death cap mushroom.
The Standard spoke to Evelyne Ndung'u, an established mushroom farmer in Nderi, Kikuyu. She plants them and sells them in different forms.
She says the most challenging part is producing the mushrooms because of the sensitivity given that they do not grow on soil and require maximum hygiene.
Mushrooms are cultivated in substrates (compost) which should have a great supply of nitrogen, which is a requisite for growth. The substrate should be sterilized from bacteria.
"Mushrooms thrive under high hygiene standards. Farmers should be careful especially when pasteurizing," said Ndung'u.
Considering the nutritional functions of mushrooms, many are now consuming it and even substituting it with other foods such as proteins.
Here is where value addition comes in as mushrooms can be sold and consumed in several ways.
For Ndung'u value addition earns more market, extends the shelf life of the products, and she sells her products to hotels and through referrals.
Packaged mushrooms
You can package the mushrooms and wrap them nicely using plastic rectangular plates and cling foil and sell them in supermarkets or via social media and have them delivered to clients.
One kilogram of packaged mushrooms cost Sh1,000.
Mushroom seedlings and spawn
Mushrooms produce spores, similar to pollen or seeds. These can be captures and sold. To produce the seedlings, spawn is needed. One kilogramme of button mushroom spawns goes for Sh1,000. Seedlings are planted in nylon bags and they cost about Sh100 for 200 pieces.
Mushroom Biscuit
Delicious and nutritious mushroom biscuits can be prepared by button or oyster mushroom varieties.
The ingredients are wheat flour and mushroom powder, sugar, gee, baking powder, salt, you can add milk powder and vanilla essence.
For making biscuits all the dry ingredients are finely ground and sieved. Then fat and sugar are mixed well for five to seven minutes using dough kneader. These ingredients are then added to dough kneader with other dry ingredients for dry mixing. Thereafter, water is added to make dough cohesive and homogenous and mixing is continued till fully done.
Then dough is kept for 10 minutes covered with wet cloth. Thin sheets of dough (about 1.25 cm thick) are made and cut into different shapes of biscuits using different steel dies. These raw cut biscuits are then baked in hot oven (at 180°C) for 20 minutes and after cooling biscuits are ready for packaging.
Mushroom Soup Powder
For preparing mushroom soup powder, dried oyster or button mushrooms are finely ground in a pulveriser to pass through 0.5 mm sieve. This mushroom powder is then mixed with milk powder, corn flour, salt, sugar, black pepper and oregano. This soup mix has to be mixed with six times quantity of water for the preparation of good quality mushroom soup with characteristic aroma and taste.
Dried Mushrooms
Drying the mushroom will decrease the water content, hence extend the shelf life of the mushrooms. Varieties such as oyster and shiitake are the best because they can be easily sundried, compared to other varieties.
The dried produce can be further utilized for preparing other value added products such as mushroom powder.
To dry, first slice the mushrooms. Choose a dust-free area and in containers that cannot be dispersed by wind.
"Additional advantage of sun drying is the increase in Vitamin D content in the mushroom. Mushrooms having open gills should be firstly dried with gill side upwards preferably in shade and then dried in sun," said Ndung'u.
Temperature above 60°C is not desirable as it leads to charring of sugars, loss of flavour and also decrease in rehydrability (that is gain of weight on rehydration of the dry product).
Pack in nice plastic bags as desired, label to make it ready for the market.
A kilo of dried mushroom costs Sh2,000, considering the time and care needed to dry the product.
Mushroom Chips
For preparing mushroom chips, freshly harvested button mushrooms are washed, sliced and blanched in brine solution. The mushrooms are then dipped overnight in a citric acid solution and then removed to add some chilli, then dried.
Then it is oil fried and good quality chips are prepared. They can be packaged as desired and sealed.