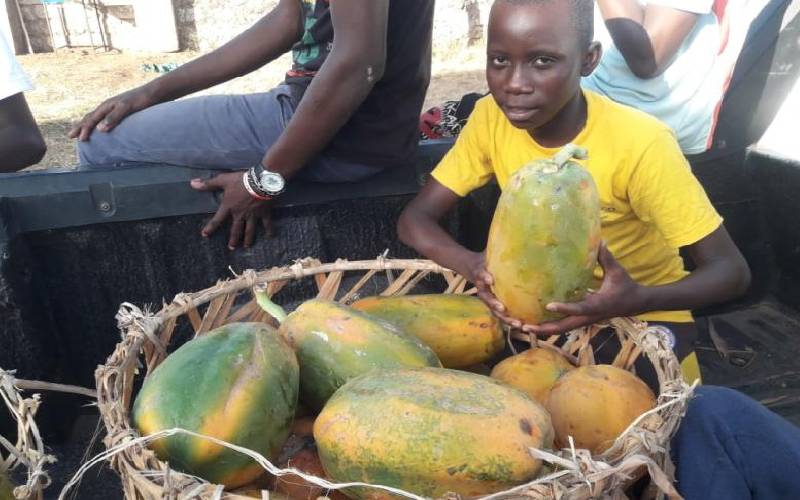 Never before has agribusiness been so promising for small farmers at the Coast. Small farmers in the region have discovered some value chain crops which have for decades been considered "useless". Having seen the money in it, farmers have now taken interest in these crops.
Sometimes in March this year,  an exporter met a group of farmers from Kwale, Kilifi, Mombasa, Tana River, Lamu, and Taita Taveta counties to announce that she needed tonnes of lemongrass to satisfy a huge demand market in Dubai and Europe.
Lemongrass is a herb that grows effortlessly in almost every homestead in the region. The grass is mostly used in the preparation of lemongrass tea. According to WebMD, lemongrass reportedly has antibacterial and antifungal properties. It has traditionally been used as a pain reliever and fever reducer.
When the exporter approached the farmers, they thought the visitor was talking about some other value chain crop "but not lemongrass".
"Yes, you have herd me right. I need a lot of lemongrass. Just grow as much as you may wish, and I will buy everything from your farms," said Esther Ngina, the exporter whose main base is in Kitengela, Kajiado, County.
Sweet cashew nuts
The surprise news brought a sign of gratitude on the farmers' faces. More expressions of surprise followed when Ngina announced that she was paying Sh350 per kg of fresh lemongrass. Listen to this, a Nyeri farmer earns Sh100 for a kilo of unprocessed fresh coffee beans. The exporter and the farmers were brought together by Pwani Ufanisi Farmers Cooperative (Pufco) some of whose members are now growers of the new golden crop at the Coast.
One such farmer is Agnes Mwaka of Vumatiti Farm in Mkongani Ward of Kwale County.
"I planted quarter of an acre of lemongrass in July this year and it is doing well but I lost some bushes to the drought we have experienced since September to date," she says. She has also planted the new improved variety of cashew nuts that matures within two and half years. She also grows and sells the seedlings. She wants to popularise the exotic fruit in the Coast and Kenya as a whole.
"Once I get a reliable source of water I will increase the acreage under lemongrass and pomegranate to two acres," she says.
PUFCO Chairperson Maristela Bahati Kahindi tells The Smart Harvest they are working closely with development partners to increase the number of value chain crops at the Coast so as to improve the lives of small farmers.
"We have launched a campaign to revive and improve cashew nut and coconut industries," says the chairperson.
She said they are working with Agriculture and Food Authority, Kenya Plant Health Inspectorate Service (Kephis), Kenya Agriculture and Livestock Research Organisation, and a number of exporters of agricultural produce. Kephis regional manager Thomas Kosiom, said his office will assist farmers to obtain export licenses for sensitive markets such as Israel and European Union.
"The Israelis like pineapples and mangoes from Coast because they are sweeter and juicier," said Kosiom.
He also said Kephis is working closely with PUFCO to establish Demonstration Farms across the six coastal counties.
Want to get latest farming tips and videos?
Join Us