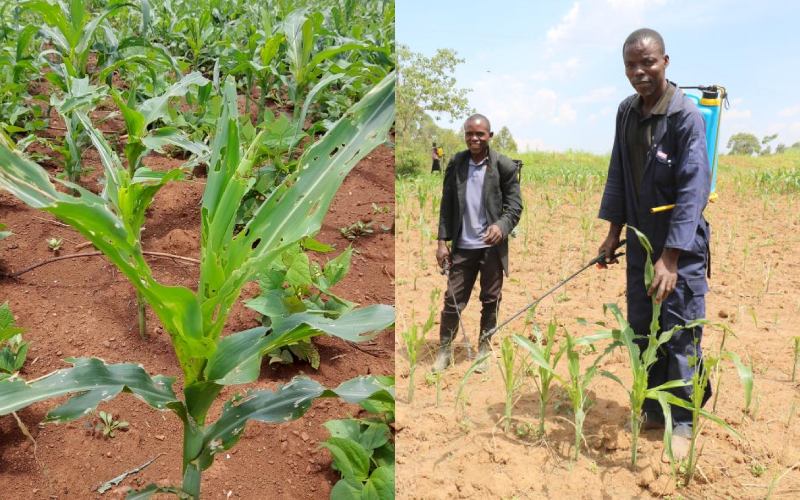 Farmers in Western Kenya who opted to plant maize between mid March and early April are regretting after the seeds failed to germinate due to delayed rains. Julius Andati, a farmer from Maondo in Kakamega County says he planted maize and beans on three acres but the seeds failed to germinate as expected because the rains delayed.
"I spent more than Sh20, 000 on fertiliser and seeds and another Sh8, 000 on labour then the rains fail to come in good time. I was forced to buy farm inputs and plant the maize afresh a week ago," says Andati.
Fall armyworm attacks
Andati says if the situation persists, Western will not meet its food harvest targets. 
"The price of 2kg of maize shot to Sh120 from Sh80 a few months ago. If the rains are not consistent, our food security will be affected," he says.
To further worsen the situation, farmers who had planted maize in February had to deal with fall army worm attacks.
Peter Ambani's farm was invaded by the destructive pests. The fall army worms destroyed half an acre of his maize farm and pesticides were not effective.
"I bought different types of pesticides and sprayed on my farm but still there were no changes. When I spray the crops, the worms crawl towards the edge of the farm to seek refuge on the Napier grass. They return later to cause more damage," Ambani, from Lurambi, says.
Farmers in Busia, Vihiga and Bungoma counties have also been affected by the pest. Margaret Anyona's three-acre farm is bare. She bought her seeds from One Acre Fund on credit, expecting a bumper harvest by the end of the year but then the worms attacked.
"The army worms have eaten up all the maize and left me wallowing in debts," she says.
She believes rains would have helped drive away the destructive worms but "unfortunately we have been experiencing erratic rains."
Paul Wanyonyi, a coffee farmer from Bungoma, is worried that the erratic rains are likely to result in decreased coffee production.
According to Wanyonyi, lack of adequate rains have interrupted the crop flowering. 
"The delay in flowering of coffee will affect the quality of beans that will be harvested and this will affect our earnings at the Nairobi Coffee Auction and at the international market," said Wanyonyi.
Bilali Kweyu, an agronomist from Masinde Muliro University of Science and Technology says with the delayed rainfall, maize yields will drop drastically.
Kweyu says Rift Valley and Western regions combined produces more than 10 million of 50-kilo bags of maize annually but the numbers are likely to drop because of the frequent droughts occasioned by climate change.
Noah Eledi, the Bungoma County Meteorological director, says farmers should go ahead and plant their crops since there will be continuous rains in May, June, July and August.
"We may not experience the normal rainfall pattern in Western but the rains expected will be enough to sustain the growth of the crops," says Eledi.
Want to get latest farming tips and videos?
Join Us