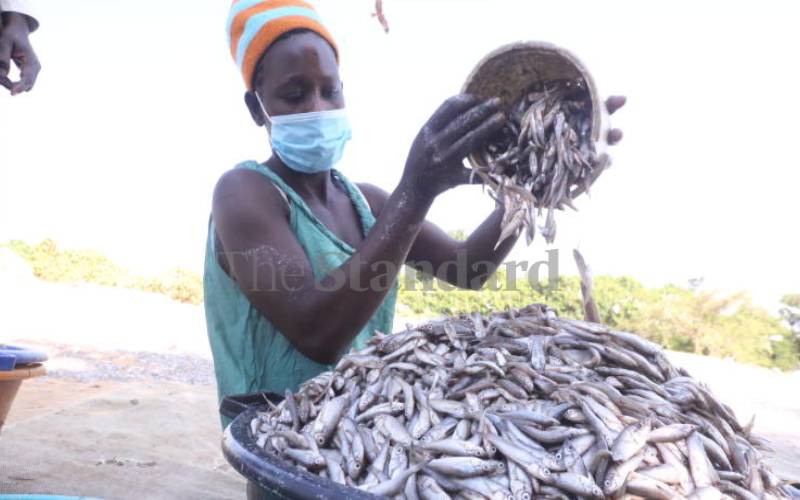 The government has been urged to reduce or suspend fishing license fees to spur the growth of marine fisheries and to cushion Coast fishermen from the effects of Covid-19.
The fishermen interviewed on Sunday during World Fishing Day said the ban on monofilament nets should also be lifted to enable them to venture into the deep waters of the Indian Ocean.
The Fishery Management Act 2016 bans the use of monofilament nets, which environmentalists say destroy the marine ecosystem.
"The licenses and other laws like the ban on nets commonly used by the locals are punitive," said Festus Jembe, the chairman of the Mnarani Beach Management Unit (BMU).
He said trawlers from outside the country use the banned nets yet they are never arrested or harassed like the local fishermen. 
"The alternative nets in the market cost too much for the local fishermen. The nets we have been banned by the government," said Jembe.
He said a monofilament net costs Sh5,000 while those that the government wants them to buy, like the gill net, costs at least Sh50,000. 
State agencies like the Kenya Coast Guard Service (KCGS) and the Department of Fisheries have intensified the crackdown on monofilament nets, saying they are adversely affecting fish production.
In February, the State destroyed a monofilament net worth Sh8 million in Naivasha. In September, last year, KCGS also destroyed nets worth Sh4 million in Kisumu.
The ministry noted that the nets which are imported from Asia were sweeping away mature fish and fingerlings, adversely affecting fish production in the country.  
The fishermen who spoke during the World Fishing Day celebrated on Sunday in Kilifi, said Kenya Maritime Authority (KMA) charges them Sh200 for a licence to operate and Sh100,000 for coxswain licence.
Captain Shalo Issa who is the chairman of the Kilifi Boat Operators Association (KBOA) said there are more than 200,000 registered fishermen operating along the coastal line from Vanga to Kiunga.
"From Vanga in Kwale to Kiunga in Lamu there are more than 200,000 fishermen registered in BMUs. In Kilifi there 17 BMUs," said Issa.
He added: "Monofilament nets can be banned but there should be affordable alternatives. Since January fishermen have been applying for licenses but have not got the documents."
The Kilifi County Executive Committee Member (CECM) for agriculture and fisheries Luciana Sanzua insisted that fishermen must use proper fishing nets. 
"The harassment of our women at the fish landing sites should stop since many are suffering and poverty levels are going up," she said. 
Fisheries Chief Administrative Secretary (CAS) Lawrence Omukhaka said that the government was trying much to help the local fishing industry by restricting fishing vessels from outside to fish in Kenyan waters. 
"The government is already training 24 youth on various maritime fields and already some of them are working on the trawlers and we have made sure that every foreign vessel has a Kenyan as a supervisor," he said.
Want to get latest farming tips and videos?
Join Us