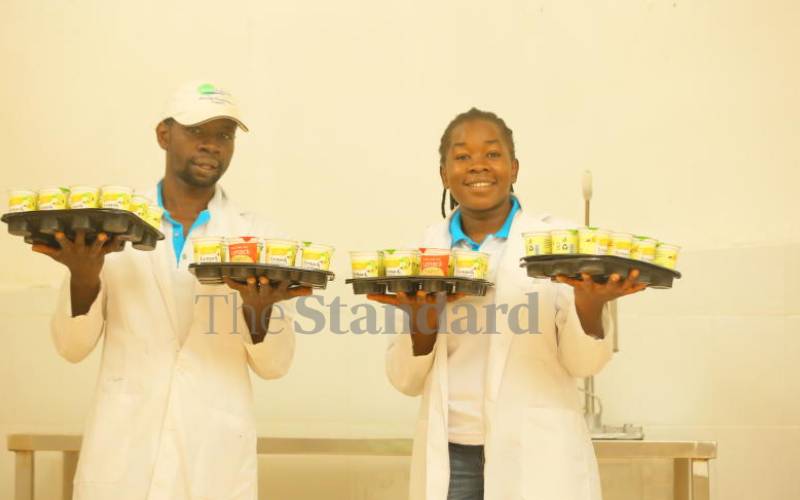 After doing odd jobs for almost five years, youthful graduates George Ogamba and his sister Lenah Kerubo got tired of the tough Nairobi city life.
Ogamba, 29, had graduated with a bachelor's degree in Procurement from Mount Kenya University in 2016, while Kerubo, 27, graduated with a diploma in Refrigeration and Air Conditioning from the Railways Training Institute.
"After graduating, we tarmacked for a while but could only get casual jobs. The money we were making was so little. In 2017, we agreed to move back to our rural home in Kisii to try out farming," he says.
After doing their research, talking to veteran farmers and experts, they saw a gap in the value chain and decided to add value to raw milk. Like all startups, they started small.
And so in December 2017, the duo identified a number of farmers and started to buy milk from them then selling it to customers from a milk dispenser located in their shop in Kisii Town.
As expected, it was tough work as they tried to steer the business past the usual startup teething problems. As they did the business, they realised most of their milk got spoilt on day two.
Milk spoilage and storage problems
"We had to find a way to extend the shelf life of the milk because we always had left overs that had to be stored to be sold the next day. Because we lacked coolers it was a challenge. That is when the idea of yoghurt making came to mind," recalls Ogamba.
Since they did not have the technical know-how, Ogamba and Kerubo approached Kenya Dairy Board and they benefited from a one-week training on yoghurt making in 2018.
Armed with technical knowledge on milk processing and their savings, they dived into the yoghurt making business from their Nyaora village home in the outskirts of Kisii Town.
Kerubo recalls that steering the business was tough.
"Since we did not have the right certifications to sell processed milk, we got arrested several times. This was very frustrating for us because here we are thinking we are doing the industry good because we had eliminated the hawking of unsafe milk by providing customers with a trusted outlet," she says.
But after meeting all the standards and requirements, they finally got the Kenya Bureau of Standards certification, paving the way for the official launch of Lenack Ltd.
"Quality is of great importance in our yoghurt making business. Our products have minimal sugar and other additives which make them stand out in the market. Our goal is to make our Lenack Yoghurt compete with the big brands in the market," says Ogamba.
Speaking of the big brands, to beat competition, Ogamba says they supply their products to the market immediately they are produced so that customers get fresh products unlike their competitors who take some time to reach the local market.
How do they do it
Kerubo says yoghurt making process starts when they receive milk from farmers.
To test the quality, they use a lactometer to test the density of milk to confirm whether it is pure or water has been added.
An alcohol gun is used to test if there are any chemical added to the milk.
Milk Analyser is used to test fat content, density, lactose, salt and protein.
If the milk meets all these requirements, it is pasteurised and boiled up to 50 degrees Celsius after which the process is stopped to allow for the addition of sugar and starch. It is then stirred for 30 minutes.
Kerubo says pasteurisation continues with the milk being boiled up to 93 degrees Celsius after which it is pumped to the fermentation tank where it is cooled using industrial chiller to 43 degrees Celsius. Afterwards it is sealed and packaged ready for the market.
"Packaging is done using semi-automatic sealer and filler," explains Kerubo.
So far, they have trained 500 farmers in Kitutu Chache South Constituency on the importance of supplying non-contaminated milk to their yoghurt processing plant.
Ogamba says currently they collect 85 litres of milk from farmers daily and pay them Sh48 per litre.
To help run the business, they have employed 13 professional young persons stationed in the production, sales and marketing departments.
So far, so good
"Agribusiness is the way to go we urge more youths to embrace similar ventures to generate an income and also create jobs for others," Ogamba challenges fellow graduates.
Though they have broken even, they still face hurdles.
Kerubo says one of the challenges is that customers tend to be choosy over the products they buy especially when confronted with a new product in the market.
"Most customers want to be assured that what they are buying is certified." To be ahead of competition, they also do differential packaging.
They package the yoghurts in 150 milllitres package which costs Sh40 and 250 milllitres package which goes for Sh50. They plan to start making 500 millitres and 1 litre packages in future.
To maintain high hygiene and quality standards, Ogamba and Kerubo are hands on and help their staff in the yoghurt making.
The big wins
Recently, the business got a boost after they wrote a proposal and got financial support from the Kenya Dairy Marketing system to acquire machinery to put up a modern yoghurt production plant.
The young duo, has done so well capturing the attention of the county. Recently, Kisii County Agriculture CEC Esman Onsarigo who launched the company said Ogamba and Kerubo have proven to be role models for fellow youth because they have demonstrated that there is money in agribusiness.
"What they are doing is admirable and we support such ideas fully. We are calling on other youths to emulate them by coming up with value addition ideas," said Onsarigo.
The CEC said the county is providing training and technical support to youths who have shown interest in engaging in Agribusiness ventures like value addition.