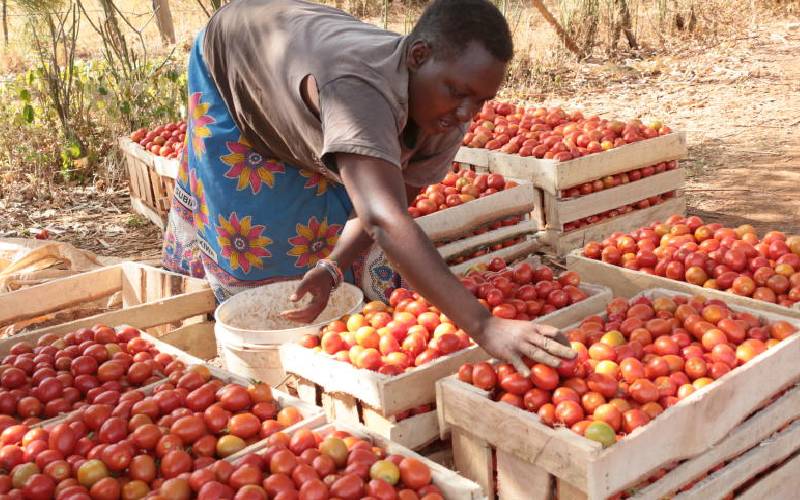 Tomato farmers in Africa have been urged to be on the lookout for the new tomato fruit virus that has been causing havoc in most of the tomato-growing countries.
Known as Tomato Brown Rugose Fruit Virus (ToBRFV), it is a newly identified virus affecting tomato, pepper, and possibly their relatives.
Speaking during African Seed Trade Association (AFSTA) Congress in September this year, Dr Isaac Macharia the General Manager, Phytosanitary Services at the Kenya Plant Health Inspectorate Service (KEPHIS), said countries in Africa are encouraged to report occurrence of the disease to ensure other countries prepare.
The symptoms
ToBRFV has a wide range of symptoms. They include: chlorotic (yellow) spotting and marbling of fruit that can appear to be similar to infection with PepMV, young fruits may be deformed and have uneven ripening, dark colouration spots may be observed on green fruits, and brown wrinkled patches are rarely observed. The number of fruits per branch may be reduced.
Younger leaves may also be crumpled, puckered, or deformed. Narrowing of leaves (needle-like symptoms) is occasionally observed on tomato, and blistering of the leaf surface is observed. Leaves may also wilt, followed by yellowing and death of complete plants.
"This virus is more severe on young tomato plants and can result in 30-70 per cent yield loss. Plants infected early are usually stunted with poorly formed fruit. Plants infected later may not express fruit symptoms until the fruit turns red. The unique thing about this virus is it doesn't infect the embryo of seed but instead contaminates the seed coat," he added.
ToBRFV first appeared in Israel in 2014. Since then, it has been reported in China, Italy, Netherlands, Spain, Greece, Germany, France, Jordan, Turkey, Mexico, Belgium, and the United Kingdom. In Africa, there have been reports of the virus in Egypt.
"This rapid spread demonstrates that ToBRFV has become a worldwide threat to tomato production. The continent needs to prepare for the negative impact of the disease in tomato production," he said.
ToBRFV belongs to the same group as Tobacco Mosaic Virus (TMV) and Tomato Mosaic Virus (ToMV). However, tomato plants tolerant to these two viruses are not tolerant to ToBRFV. Currently, no commercial tomato varieties are tolerant to ToBRFV. Peppers with tolerance to TMV and pepper mild mottle virus (PMMoV) have shown some tolerance.
"There is a need to ensure we prevent the introduction of this virus in most of our countries. We can achieve that if we embrace pre-shipment testing of all imported tomato, capsicum, eggplant seeds irrespective of the origin using an appropriate method such as real-time Polymerase Chain Reaction," he said.
He added that there was a need to sensitise importers of tomato/capsicum seed and commercial growers to ensure early reporting of cases.
Containment measures
Other measures that can help prevent introduction of this virus into other Africa countries are development of contingency plans to prevent spread in case of introduction, enhancement of collaborative sharing of information on pest reports/status within different countries, sourcing of seeds from countries where the virus does not occur, and adoption of phytosanitary measures such as decontamination of soil from previous crops, trellising ropes, greenhouse structures to minimise any risks.
Breeders also need to work towards the development of varieties with durable resistance genes since phylogenetic analysis shows the genomic sequence of ToBRFV differs from either ToMV or TMV. 
"There is also need to invest in laboratory diagnosis for diseases including tomato diseases. This will help countries carry out continuous tests for a proportion of seed and seedlings for ToBRFV," he added.
Dr Macharia says ToBRFV is stable and infectious. It is spread mechanically through people and equipment touching infected plants and transferring it to a healthy plant. Contaminated seeds have also been identified as a pathway. Bumble bees used as pollinators are also reported to transmit the virus as well. However, the good thing is there are no reports of plant-to-plant transmission by aphids, leafhoppers, or whiteflies.
"Its high stability allows it to stay infectious in infected debris, soil, or on contaminated surfaces for long. Because of this, farmers are urged to continue practicing good plant hygiene," he said. 
Since Kenya imports most tomato, capsicum, and eggplant seeds from different countries including those where ToBFRV has been reported, Macharia says it is now mandatory for all imported tomato seeds to be tested using real-time PCR. So far about 192 imported seeds lots have been tested since February 2021 and no positive samples have been registered so far.
A field survey was also done in 2019 and 256 leaf samples were analysed (245 tomatoes, 10 capsicums, 1 black nightshade) and all samples tested negative. Despite the negative results, emergency measure on ToBRFV was issued to all-out trading partners and import conditions for tomato and capsicum were amended to include pre-shipment testing and upon importation. 
"We will continue to conduct continuous surveillance to ensure this virus doesn't get to our country. We are also going to develop contingency plans to prevent spread in case of introduction," reveals Macharia.